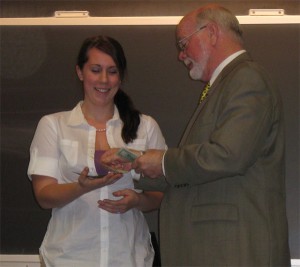 In a packed lecture hall at Michigan Technological University, future entrepreneurs were strutting their elevator pitches in an annual competition to see who could best sell their business plan in three minutes or less–the average time it takes to ride an elevator.
It was fast, furious, fun and financially rewarding for some.
Master of Ceremonies Bob Mark, professor of practice in Michigan Tech's School of Business and Economics, kept the pace quick, and the only pauses came between speeches, while the judges voted.
The pitches were as diverse as they were captivating.
Michael Pelletier was hawking Metro Safety Products, a GPS-based system for tracking school buses and the children who ride them, so mom and dad can monitor their progress from home. That way, Junior doesn't have to go to the bus stop too early, and his parents and school personnel can rest a little easier, knowing exactly where he is located.
Beyanka Sutton and Emerald Gary promoted Essence of Ebony, while they rode with Professor Mark on the "elevator" at the front of the room. Their idea? To create a mobile hair salon for women of color in the UP, since existing services tend to be too expensive and too hard to find. Mark sounded sold on the idea, saying: "Why don't we talk, ladies."
A local high school student even tried her hand. Whitney Crist, a senior at Hancock High dual enrolled at Michigan Tech, presented the Whipper Snacker, a program to teach young children about entrepreneurship by training their parents to help. Crist also presented one of the potential products, chocolate chip cookies, to the judges for sampling.
As hard as the judges' task was, they had to determine winners, in addition to the Audience Favorite Award, which went to Bobby Cheesman and Dan Madrid. They "created" Tasty Tape, an edible adhesive to keep food like tacos and burgers from falling apart, replacing the ubiquitous toothpicks. They had a little help: their fraternity, Sigma Tau Gamma, was present in full force.
Third place in the judging went to Yooper T's, by Shawn Peterson and Ibrahim Ndaou. They proposed creating shirts on demand for tourists in the UP, initially based on the CDs by the musical group, Da Yoopers. They would expand to create shirts for events such as Winter Carnival and the Professional Road Rally: unique, one-of-kind keepsakes. They took home $250.
The runners-up, who won $500, were Alex Cotton and Connor Callihan, with EZ Locks. This iPhone-triggered system allows someone with arms full of groceries, as demonstrated by Callihan, to unlock the front door without spilling the sacks. Their slogan: "Coming home every day should be EZ."
Top winner was Jess Tompkins, with her Two Bows business: affordable hunting apparel for women. "With a bow in the hand, and one in your hair, you'll look good anywhere," she proclaimed. She said she was inspired by hunting trips with her dad, starting when she was in diapers, and by years of seeing women wearing unflattering clothes on hunting trips.
"I've already talked to a manufacturer in Virginia," she said as she spoke of rolling out initial offerings of camouflage shirts, winter and fall jackets, and some "flannel that is really warm but never looks right on women."
She pocketed ten $100 bills (with Ben Franklin on them looking encouraging), and as the winners gathered on the podium afterwards, one of her fellow students shouted, "Hey Jess, are you taking us all to Applebees?"
She seemed to have bigger and and more entrepreneurial plans for the money.
Posted by Dennis Walikainen.
Read this story on the Michigan Tech News website.
Michigan Technological University (mtu.edu) is a leading public research university developing new technologies and preparing students to create the future for a prosperous and sustainable world. Michigan Tech offers more than 130 undergraduate and graduate degree programs in engineering; forest resources; computing; technology; business; economics; natural, physical and environmental sciences; arts; humanities; and social sciences.