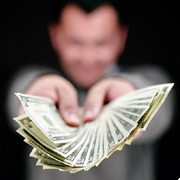 Brendan '05 and Christine '06 Andrews graduated from Michigan Tech with degrees in civil and mechanical engineering. After working for a few years in the Appleton, Wisconsin, area, the couple wanted to further their education and increase their career opportunities.
The Tech MBA Online has been a nice fit, they said. Being able to complete courses while remaining in their current jobs has been great. Getting a break on tuition is even greater!
"The online program is the perfect way for working students to obtain a meaningful degree while continuing their careers," said Christine.
"And the scholarship has helped us immensely," added Brendan. "Pursuing MBA degrees is a big change in our financial situation, and we wouldn't have been able to take advantage of this opportunity without the scholarship."
The Tech MBA Online will welcome its second class in fall 2011, and the Dean's Scholarship of $2,000 is available now.
Dean's Scholarship
Supported by generous alums, the Dean's Scholarship has been brought back this year to provide financial assistance to those who are enrolled in the program. For $2,000 off the cost of the program, enroll by January 15th.  View complete details of the scholarship.
Referral Benefit
New this year, the School of Business and Economics is implementing a referral program to recruit top students into the Tech MBA® Online program. Refer a friend or coworker for the Tech MBA® Online and once that person is enrolled into the program, you'll receive $250 off your next tuition bill. Learn more about the Referral Benefit.
**These opportunities are only available to individuals interested in the Tech MBA® Online at this time. View the on-campus Tech MBA financial information.
Priority Registration
The Tech MBA® Online has also announced its priority registration schedule for admission into the program this Fall. Completed applications are considered as they are received.
Priority application deadline: January 15th
Second wave application deadline: March 1st
Final application deadline: May 1st
View additional admissions information for the Tech MBA® Online.