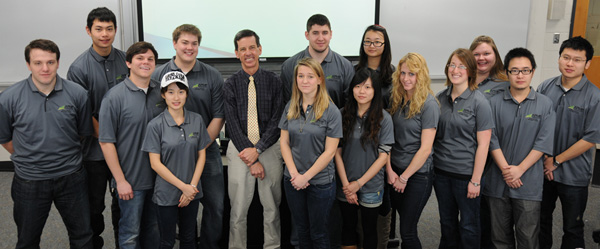 Students in the Applied Portfolio Management Program are no strangers to managing a portfolio of stocks and bonds in the stock market.  Now with $50,000 in funds from long-time APMP supporter, Joe Dancy, the students will add another type of asset to their portfolio: options.
Options involve the opportunity to buy or sell different stocks at a predetermined price and time. Not all companies has listed options and traditionally it has been the larger firms. But as Dancy discovered, over the last few years the exchanges are listing options on smaller companies, which makes the process more interesting and potentially lucrative.
Now with Dancy's generous contribution ear-marked for options trading, APMP students will develop and implement trading strategies around stock options.
"The goal is mainly educational. If we make money, that's great, if we don't hopefully Professor Johnson can give the students the theoretical background on why a certain strategy didn't work. At the end, I'd like to see students confident in managing money and namely their own retirement funds. That will mean I've helped to accomplish something. " Joe Dancy.
Trading options can be risky. To reduce that risk, Director of APMP and Associate Professor of Finance, Dean Johnson, and Dancy will have ultimate authority on stock option portfolio management.  The students will be doing the groundwork and researching the potential payouts from companies in different sectors. Much interest lies in companies that specialize in the field of energy.
"Being able to experience and manage an options portfolio while still in college is a great resume builder and more importantly will give the students more confidence in their investment strategy development," added Dean Johnson. "Trading stock options is a great example of how we are bringing the best opportunities to Michigan Tech students."