Tax crunch time is upon us and the Volunteer Income Tax Assistance (VITA) program is here to help!
The VITA program provides FREE income tax preparation assistance at no cost for members of the community who could not otherwise afford the services of a CPA tax professional. Sponsored by the IRS, VITA exists on campuses all over the US and has been on the Michigan Tech campus for over 20 years..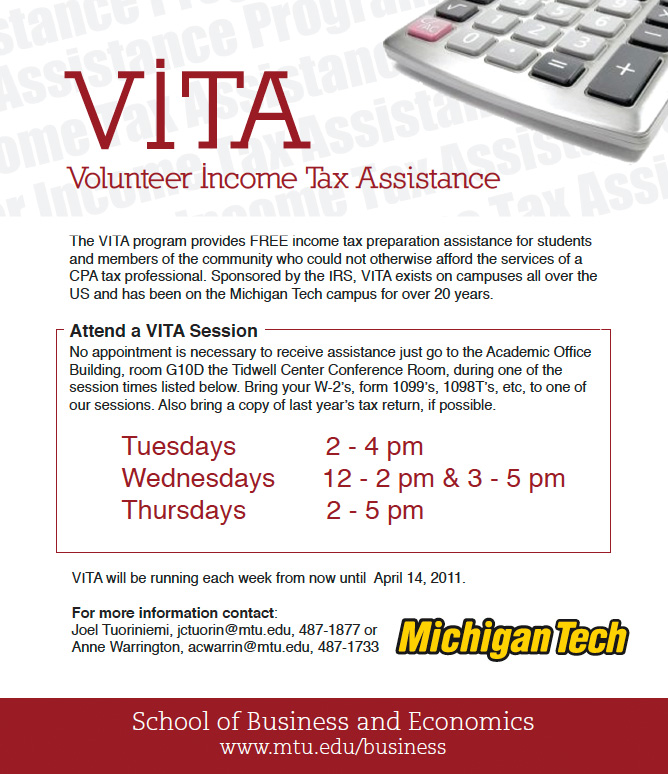 Tax forms are prepared by accounting and finance students who have completed an IRS training course. Students volunteer their time and talent for the program. Last year over 50 students and community members benefited from this service.
Attend a VITA Session
No appointment is necessary to receive assistance just go to the Academic Office Building, room G10D the Tidwell Center Conference Room, during one of the session times listed below. Bring your W-2's, form 1099's, 1098T's, etc, to one of our sessions. Also bring a copy of last year's tax return, if possible.
| VITA Schedule | |
| --- | --- |
| Tuesdays | 2 – 4 PM |
| Wednesdays | 12 – 2 PM |
| | 3 – 5 PM |
| Thursdays | 2 – 5 PM |
VITA will be running every week from now until April 14, 2010.
For more information contact Joel Tuoriniemi, jctuorin@mtu.edu, 487-1877 or Anne Warrington, acwarrin@mtu.edu, 487-1733