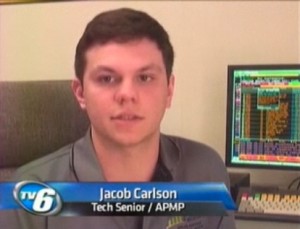 Republished from TV6 News.
HOUGHTON — Buy?  Sell?  Do nothing at all?
The stock market, at times, can seem like a bit of gamble, especially when events around the world rattle markets.  It's certainly been an interesting few months for students participating in Michigan Tech's Applied Portfolio Management Program (APMP).
Each year the group oversees the investment of a $1.3 million university endowment fund.  And this year they've seen a lot of activity in the market.
"We are down since March 11th when the earthquake happened, but we expect that to come back quickly," says senior Jacob Carlson.  "Right now is actually one of the best opportunities to earn money.  There's a lot of potential."
The students say they've hedged their risk by holding a diversified portfolio.  They've got about 35 securities and are always considering new investments.  In fact, they've been eyeing a few Japanese companies for several months and say the disaster's financial impact isn't all bad.
"Japan has kind of become a pretty big opportunity for investors that are looking for something that's slow right now and will increase in the future," Carlson says.
Edward Jones financial adviser Bob Nelson agrees that global thinking is a great way to survive inevitable sell-offs.  He encourages his clients to stay calm, pointing out that uncertainty is sometimes worse than actual bad news.
"Be careful of what the crowds do because they're typically wrong," says Nelson.  "The answer is don't guess on any one play, be diversified."
Nelson also cautions people to pay attention to the decline of the U.S. dollar.
He says his firm recommends people invest 30 percent of their portfolio in non-U.S. holdings.
Other tips include:  talk to a friend or adviser who can be objective about your money, and consider all aspects of a company (long-term performance, dividends, etc.) before deciding to buy or sell.