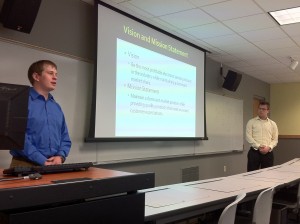 The position of CEO is considered one of authority, leadership, and vision but also implies long hours and important decisions. Understanding the magnitude of the CEO role as a first-time college student can be difficult but students in the School of Business and Economics have that opportunity. Professor Dana Johnson's Operations Strategy class experienced upper-level company management through an internet-based, interactive business simulation.
This spring six, two-person teams competed against over 1,000 other groups from internationally in the simulation, part of Capsim Management Simulations, an internet-based approach to decision making. Covering eight years of company management over the time span of 6.5 weeks, students make every decision ranging from research and development, production planning, marketing, finance, total quality management, sustainability, and human resources.
"Michigan Tech students have participated in this simulation over the past ten years and have done very well each time. Usually we have 1 – 2 teams consistently placing in the top ten results standing each week," said Dr. Johnson.
Team Baldwin, composed of Bret Kilpela of Atlantic Mine and Ross Kinnunen of Atlantic Mine, appeared in the top ten for weekly standings and even secured the coveted first place position during the course of the simulation.
"Adjusting our products to what the customer wanted, based on the criteria provided to everybody was really our key to success.  In doing so, our demand was high, making our revenue and profits high," said Kinnunen.  With this we were able to buy back stock, pay dividends and raise our stock price."
"The students are getting an overall look of how each part of business plays a key part in the success or failure of a company," said Dr. Johnson.
That's a valuable experience to have as a college student.