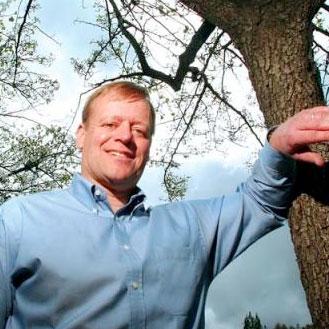 When John Rockwell '79 was a student-athlete at Michigan Tech, his dream job was to be an NHL hockey player. It wasn't until he was 31 that he discovered what he really wanted to do, he told a packed house at the Rozsa Center. Once he figured that out, he never looked back.
Rockwell, the inaugural speaker in Michigan Tech's new Pattullo Visiting Executive Program, visited campus this week to address the first-year engineering class and meet with faculty and staff. His visit was funded by Scott Pattullo '81.
While he has built a stellar life for himself in the years since his graduation, Rockwell remembered his undergraduate days fondly. "I envy you," he told the crowd of incoming students. "The best four, five or six years of your life are ahead of you."
After earning a bachelor's degree in business administration, Rockwell was able to indulge his love of hockey as a member of the US Junior National Team and the US Select Team that won the Spengler Cup. It wasn't until after he joined 3M's business development wing, however, that he discovered his talent for building companies and commercializing technology.
Rockwell is now founder and managing director of Element Partners, a venture capital and private equity firm that specializes in green technologies. During the last 20 years, he has invested his time and money in numerous green-tech companies, from Luxar, a manufacturer of carbon dioxide lasers, to EdeniQ, a biofuels company now deriving sugars from cellulose.
Each company's story is different, but they all illustrate principles he shared with the engineering students.
He flashed a PowerPoint: "Technology + Other Things = Innovation"
"Technology is necessary but not sufficient," he said. "That's where corporations step in." In particular, corporations can marshal key resources, such as leadership and management.
"I would rather invest in a great management team with a mediocre product than a great product with a mediocre management team," he said. Rockwell cited Microsoft and Apple as case studies. Apple's products are easier to use, but Microsoft triumphed in the marketplace thanks to its superior business plan.
In fact, corporations are responsible for most of the technological breakthroughs that characterize modern life, from cell phones to solar panels, and corporations are the primary manifestation of capitalism. Capitalism is driven by the creation of wealth, he noted, but that doesn't mean it can't work on the side of the angels.
"If you want to make the world a better place, develop products that accomplish what you desire and that make money," Rockwell counseled. The standard wisdom has been that you can't make a profit on green technology, he said, but Rockwell has disproved that multiple times by keeping an eye on the bottom line. "We invested in technologies that made money for our customers."
To do that, you need the right people. Jack Welsh, former chairman and CEO of General Electric, spent about 85 percent of his time of hiring, training and attracting people, said Rockwell. "He realized that if he hired the best people, they'd make the company profitable."
Success is something to be proud of, he told the students. "Making money is good," he said. "It's a sign you are creating value and improving the world."
Rockwell offered a few pieces of advice to achieve that success. "Follow your passion. Dream big. Don't be afraid to fail," he said. To prepare for the working world, obtain a broad base of knowledge, from engineering to business and economics. "You should understand how the financial system works," he said.
"It's impossible to say" which engineering discipline any individual should choose to follow, he said. "You should go into the discipline you love the most. No one was ever great at anything without loving it."
No matter how successful you are, he said, always struggle to accomplish something new. "When you are happy and comfortable, look to make a change." In addition, he said, value family above all else. "Family is the most important thing, by far," he said. "I'd give up everything for that."
Finally, he told the students, they are ideally placed.
"The US has the best environment for innovation in the world," he said. It has the best education system, the biggest markets and the best access to capital.
Most importantly, it rewards risk. "This is our distinctive competence," he said. But to stay at the top, the US will need to be a leader in making the most complex, high-tech products in the world. That will require engineers.
"There will be one million jobs opening in science and engineering, and we have only 200,000 graduates to fill them," he said. "I want you all to be great engineers, so you can make the world a better place and help the US economy produce greater opportunities for our people."
by Marcia Goodrich, senior writer
Originally posted in Tech Today.