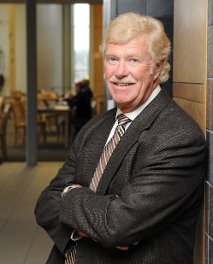 James and Dolores Trethewey have established a new endowed professorship in Michigan Technological University's School of Business and Economics.
With a $1.16 million gift commitment, the couple is underwriting the James and Dolores Trethewey APMP Professorship. The inaugural recipient is Associate Professor Dean Johnson, founding director of the Applied Portfolio Management Program.
The gift supports the hands-on, real-life investment program that Johnson launched in 1998 with the Tretheweys' backing. Finance students manage an investment portfolio of approximately $1.2 million with funds provided by a number of donors through the Michigan Tech Fund.
"This is a great and unexpected honor," Johnson said. "I already owe them so much. Jim and Dee's support from the first day I proposed the APMP was key to its starting. And, they have also entrusted APMP students with managing their scholarship funds for years."
Mr. Trethewey graduated from Michigan Tech in 1967 with a BS in Business Administration. He spent most of his professional career at Cleveland-Cliffs, now Cliffs Natural Resources, retiring in 2007 as senior vice president for business development. The family devised the professorship to promote the APMP, he said, but there are many reasons for their support of Michigan Tech.
"Do you give because of the great administration and leadership exemplified by [University President] Glenn and Gail Mroz, who seem to give every waking moment to Tech?" Trethewey asked. "Or because deans like Darrell Radson and Gene Klippel before him built successful new programs? Or do you give because you have professors like Dean Johnson who have a dream and a vision and the fortitude to carry them out? Or, do you give because you have great students who bring these programs to national prominence?
"Or, is it the Tech culture, which is unique: hard work, ethics, creativity and intellect, all rolled into one? There's an aura about Michigan Tech. It's a special place."
All those things matter, he said, but the impetus behind the Tretheweys' giving can be summarized by two questions: 1. Did Michigan Tech improve your career and add to the standard of living of your entire family? 2. Do you have the desire and capability to give?
"The answer to both is a resounding yes," said Trethewey. "Which leaves us with three more questions: How, when and how much?"
"When" is relatively easy. Tech is included in the Tretheweys' estate plan, but they are also providing substantial annual cash gifts to support the APMP. "We wanted to see the fruits of our labors," he explained.
"How" and "how much" are a little more complicated. "It's like going into Walmart for a quart of milk and later coming out with $200 of packages," he said. "We haven't quite got our arms around our giving. I think we're still mulling it around in the aisles of Walmart."
Johnson is thrilled that the Tretheweys have pulled the APMP off the shelf. "It gives us a permanent source of funding," he said. "I'd been scratching my chin, wondering how we were going to pay for student travel, with the stock market way down."
APMP students travel for national investment competitions and, as top finishers, were once invited to open the New York Stock Exchange. Among their other destinations, they also visit the Chicago Mercantile Exchange and attend Warren Buffet's Berkshire Hathaway annual meeting in Omaha, Neb.
"And we also give them scholarships," Johnson said. "To fund all this has been a struggle, but now to have Dee and Jim recognize that need and meet it is just amazing.
"It's also very humbling to have somebody recognize my dream and give it such incredible support," Johnson added. "I've just been doing what I thought was the right thing to do: educate students."
For the Tretheweys, that's what their gift is all about. "When you pass through the halls of Michigan Tech, you come out with a first-class ticket to anywhere you want to go," Trethewey said. "The route and the destination are up to the individual. And special programs like the APMP are examples of the tremendous role universities play in our society. We all have an obligation to help them."
Trethewey is a member of the Michigan Tech Fund Board of Trustees, the Academy of Business and Economics, the APMP Advisory Board, and the School's National Advisory Board.
Written by Marcia Goodrich, senior writer for University Marketing and Communciations.
This article was originally published on Michigan Tech News.