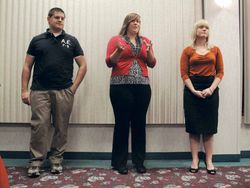 Michigan Tech School of Business and Economics students talked to members of the local business community last week about what they like about the area and what things they'd like to see improve.
Business students Megan Plis (Management and Spanish), Kaylee Betzinger (MIS and Marketing) and Chris LaBaere (Finance) spent an hour answering questions at the Keweenaw Peninsula Chamber of Commerce's monthly Eggs & Issues forum.
"I think it's really interesting to see and meet the local business owners and the people that are really involved in our community, and it's an interesting opportunity to both network and offer our own opinions," said Plis.
The goal of the event was for local businesses to find out and understand what they're doing well and the types of things they can improve upon. LaBaere said he wants to see a Jimmy John's come to the area; Betzinger would like an "eclectic, old record store" and backpacking store, with information, guides and outdoor gear.
Associate Professor of Management Information Systems Mari Buche also attended the event, "In spite of the 7am time slot, the students were eager to particpate in the discussion with local business leaders. The fact that their opinions were being solicited means that the community at large is interested in helping college students to feel connected while they are residents of the Keweenaw area. As a direct result of this interaction, we can look forward to more events designed to attract students to downtown shops. Keep watching for giveaways and discounts. As all three Michigan Tech representatives stated: Students like FREE stuff."
To see more of what the business students suggested, see the Daily Mining Gazette article, and the TV6 new article and video.