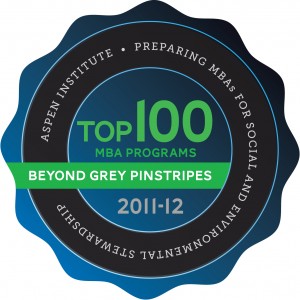 The Michigan Tech MBA program has demonstrated significant leadership in integrating social, environmental and ethical issues into its curriculum, according to the Aspen Institute's 2011-2012 edition of Beyond Grey Pinstripes, a biennial survey and alternative ranking of business schools. Michigan Tech ranked number 76 on a list of the top 100 business schools in the world. In terms of student exposure, the Michigan Tech MBA program was 18th out of 100, up from the number 63 spot in the 2009-2010 survey.
While many MBA rankings exist, Beyond Grey Pinstripes is the only one that looks beyond reputation and test scores to measure something much more important: how well schools are preparing their students for the environmental, social and ethical complexities of modern-day business.
The 2011-2012 ranking reflects the School's increased efforts to build sustainable content into the curriculum. "Ethical, sustainable and environmental concerns inform every aspect of our MBA program, from course content to faculty selection," said Tom Merz, the Associate Dean of the School of Business and Economics. "This comprehensive approach increases exposure for both students and faculty."
In a remarkable showing, 149 business schools from 22 countries participated in a yearlong effort to map the landscape of teaching and research on issues pertaining to business and society. "In all scoring categories used to determine the ranking, business schools have raised the bar," said Judith Samuelson, executive director of the Aspen Institute Business and Society Program, which conducted Beyond Grey Pinstripes.
This year's survey marked the first opportunity since the global economic downturn to comprehensively measure the extent to which MBA programs have altered the content of their courses, and whether faculty are pursuing research that questioned assumptions about the role of business in society.
"Our MBA program is dedicated to providing timely, relevant coursework and research opportunities that prepare our students for a changing workplace," said Mari Buche, Associate Professor of Management Information Systems in the School of Business and Economics. "In the current economic and environmental climate, students are actively seeking out programs that focus on ethical and socially responsible business practices. Our Beyond Grey Pinstripes ranking is a great way to attract motivated, socially-conscious students."
To learn more about Beyond Grey Pinstripes, visit www.beyondgreypinstripes.org.