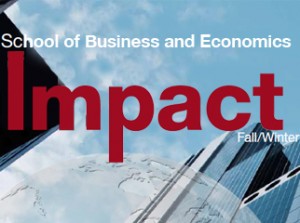 Impact is Michigan Tech's School of Business and Economics semi-annual publication. It illustrates how our students, alumni, School, and University are changing our world.
This issue discusses the future of business education, renewed AACSB accreditation, successful alumni stories, the spring 2011 undergraduate trip to Silicon Valley, two faculty who have become co-editors of an influential policy journal, and MBA student research on survey data. Read Impact now.
See past issues of Impact on our website.
The School of Business and Economics would like to recognize key people who have continued to make Impact a reality. University Marketing and Communciation's Crystal Verran, Dennis Walikainen, and Bill Tembruell. Also, writer Erin Kauppila. Thank you all for your hard work.