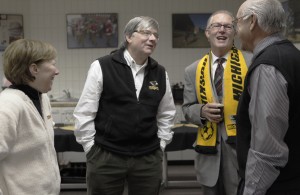 The irony of his last lecture topic wasn't lost on professor of economics Pat Joyce. On a bitterly cold December morning, thirty-eight years after he started teaching at Tech, he spoke on Social Security.
He explained the vagaries of the often-maligned government entitlement program in language the students could understand and challenged them to think broadly about it. One example was the two scenarios regarding its future existence: Alfred E. Neumann or Chicken Little—"What, me worry." or "The sky is falling."
It's one part about teaching at Tech he'll miss the most, he says.
"I'll miss the student contact," he says. "When a student comes back fifteen years later and says I had an impact on what they did. How they learned to be skeptical. How, when they are given a cost for something, their time or their money, to look at alternatives."
Those life lessons resonated with his students, it seems, and he was comfortable here, he says, with students who thought like engineers, even if they weren't.
"They think linear, A then B then C then D," he says. "They play hard and they work hard."
During his tenure as faculty representative for athletics, he was particularly proud of the student-athletes' GPAs, which were routinely higher than the average of the overall student body.
"I don't know how they do it," he says.
And, of course, he's seen a change in teaching over the many years, exemplified by a student nearby in the library who was texting into her phone as she listened to music on her iPod and typed on a laptop.
"Now I use Blackboard [online course management system] and post documents there, where I used to put them on reserve in the library," he says.
He does lament the "connected" students' communications that have replaced the face-to-face talks in his office. Or at least phone conversations.
"I call my sister, but my daughter communicates via Facebook," he says, illustrating the generational differences.
He'll miss his colleagues, too.
"The culture here is so collegial," Joyce says. "The faculty share responsibilities because we are all in this together. If someone asked you to take an eight o'clock section for them, you did it."
He compared the change in faculty in the School to the Northern Lights.
"You watch them and they stay the same, it seems. Then, right before your eyes, they've completely changed."
For the future, he will remain in academia, at least part time, as a research professor.  He has studied human decision-making with current associate dean Tom Merz.
"My wife, Kathie, and I will be in Croatia next fall," he says. "I'll be teaching at the University of Split." They visited the area in 1994 and fell in love with it. "Kathie can take cooking classes in nearby Italy, too."
In the more immediate future, he'll communicate in-person with his grandchildren (all six) and children in South Bend and Ann Arbor.