All posts by Carly Harrington
---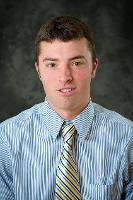 For the ninth time in Michigan Tech men's basketball history and seventh time in the last 14 years, the GLIAC Player of the Year wears a Huskies jersey. Senior Ben Stelzer (Manitowoc, Wis.) earned the honor in voting from the league's head coaches.
Stelzer was also named to the All-GLIAC First Team while backcourt mate Jordan Chartier (Chatham, Mich.) earned a spot on both the All-GLIAC Second Team and GLIAC All-Defensive Team.
Stelzer led the GLIAC in scoring all season, finishing at 22 points per game. The recently-named Academic All-American posted 20 or more points in 18 games with three 30-point performances. He leads the nation in 3-point field goals made per game (3.96) and ranks among the national leaders in scoring and 3-point percentage (45.0). Stelzer, with 572 points this season, has totaled 1,709 career points—seventh most in Michigan Tech history. The senior guard also reset Tech's record for 3-pointers made (355). Stelzer was the preseason GLIAC Player of the Year and four-time GLIAC Player of the Week during the 2014-15 campaign that saw the Huskies finish second in the GLIAC standings.
Chartier ranks second on the team in scoring at 10.3 points per game. He leads the GLIAC and ranks seventh nationally in  assist-to-turnover ratio (3.26-to-1) with 88 assists and just 27 turnovers all season. The 6-2 guard also averages 4.5 rebounds—second most on the team—while playing 36.2 minutes of each contest.
The two Huskies helped Tech to a 16-6 mark in GLIAC play—tied for the second best mark in the league. Tech holds the No. 2 seed in the GLIAC Tournament, which begins Wednesday (Mar. 4). The Black and Gold host No. 7-seeded Walsh for a 7:30 p.m. tipoff.
Notes: Other GLIAC MVPs from Michigan Tech were Ali Haidar (2011-12 and 2012-13), Josh Buettner (2003-04 and 2004-05), Matt Cameron (2001-02 and 2002-03), Matt Trombley (1994-95) and Russ VanDuine (1980-81) … The All-GLIAC Women's Basketball Teams will be announced at a banquet on Friday (Mar. 6) prior to the GLIAC Final Four.
2014-15 GLIAC Men's Basketball Postseason Awards & All-Conference Teams
Player of the Year:
Ben Stelzer – Michigan Tech
Freshman of the Year:
Ben Haraway – Malone
Coach of the Year:
Steve Hettinga – Lake Superior State

2014-15 All-GLIAC First Team

Name
School
Year
Pos.
Hometown/Previous School
Ben Stelzer
Michigan Tech
Sr.
G
Manitowoc, Wis. / Roncalli
Drew Lehman
Ferris State
Sr.
G
Toledo, Ohio / Central Catholic
Kyle Cooper
Hillsdale
Jr.
F
Northville, Mich. / Detroi Catholic Central
Wendell Davis
Ashland
So.
F
Reynoldsburg, Ohio / Bell
Alex Williams
Lake Superior State
Sr.
G
Benton Harbor, Mich. / Benton Harbor
C.J. Turnage
Saginaw Valley State
So.
F
Ypsilanti, Mich. / Milan
Jake Heagen
Findlay
Sr.
F
New Concord, Ohio / John Glenn
Will Bowles
Northwood
Sr.
F/C
East Detroit, Mich. / South Lake
Jesse Hardin, Jr.
Walsh
Jr.
G
Warren, Ohio / Harding
Tony Harris
Lake Superior State
Sr.
G
Auburn Hills, Mich. / Avondale

2014-15 All-GLIAC Second Team


Name
School
Year
Pos.
Hometown/Previous School
Jared Stolicker
Ferris State
Jr.
C
Middleville, Mich. / Thornapple-Kellogg
Damon Bozeman
Saginaw Valley
Jr.
G
Detroit, Mich. / Madison Heights
Garrett Hall
Saginaw Valley
So.
G
Indianapolis, Ind. / Cathedral
Dylan Langkabel
Northwood
Jr.
G
Morristown, Ind. / Morristown
Maurice Jones
Northwood
Jr.
G
Saginaw, Mich. / Arthur Hill / USC
Jamil Dudley
Lake Erie
Sr.
F
Massillon, Ohio / Massillon
Ricardo Carbajal
Grand Valley State
Jr.
F
Munster, Ind. / Quincy
Ryan Sabin
Grand Valley State
Sr.
G
Byron Center, Mich.
Jordan Chartier
Michigan Tech
Jr.
G
Chatham, Mich. / Superior Central
Josh Fleming
Ferris State
Jr.
F
Carol Stream, Ill. / Glenbard North

2014-15 GLIAC All-Defensive Team

Name
School
Year
Pos.
Hometown/Previous School
Tony Harris
Lake Superior State
Sr.
G
Auburn Hills, Mich. / Avondale
Kellen Smith
Saginaw Valley
Jr.
G
Covington, Ky. / Scott
Jared Stolicker
Ferris State
Jr.
C
Middleville, Mich. / Thornapple-Kellogg
Akaemji Williams
Lake Superior State
Fr.
G
Rochester, Mich. / Adams
Dawuan Thomas
Ashland
Sr.
G
Dayton, Ohio / Trotwood-Madison
Jordan Chartier
Michigan Tech
Jr.
G
Chatham, Mich. / Superior Central
Ryan Sabin
Grand Valley State
Sr.
G
Byron Center, Mich.
John Staley
Findlay
Jr.
F
Dayton, Ohio / Chaminade-Julienne
Davonte Beard
Walsh
Sr.
G
Akron, Ohio / St. Vincent-St. Mary
James Chappell
Ferris State
Jr.
F
Detroit, Mich. / Southwestern
---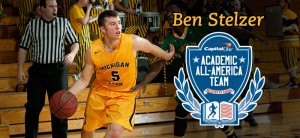 Michigan Tech men's basketball player Ben Stelzer (Manitowoc, Wis.) has become the program's fifth player to earn Academic All-America recognition. The senior guard was named to the Capital One Academic All-America Second Team today.
Stelzer, who was the preseason GLIAC Player of the Year, leads the GLIAC in scoring at 22.1 points per game. He has posted 552 points this season to run his career total to 1,689—seventh-most in program history. The 6-1 guard leads the nation in 3-point field goals per game (4.0) and broke the Huskies career record for 3-pointers made (now with 352). In the classroom, Stelzer has a 3.69 cumulative grade point average in finance.
He joins an exclusive group of men's basketball players who have earned Academic All-America status. Austin Armga (2014), Wayne Helmila (1985), J.T. Luginski (2002 and 2003) and Russ VanDuine (1980 and 1981) are the others.
Michigan Tech concludes its 2014-15 regular season today at arch rival Northern Michigan. The Huskies will then host a GLIAC Tournament quarterfinal game at the SDC Gym next Wednesday, Mar. 4.
---
[youtube]http://youtu.be/GywICI9i7H4[/youtube]
Over 300 companies from across the country packed the Student Development Complex at Michigan Tech yesterday for the Career Fair. Students double and triple checked their resumes and were determined to leave a lasting impression for their prospective employers.
Career Services Director Steve Patchin explained how the state of the economy impacts the job market.
"Right now, there's a shortage of talent out there, especially in the areas of STEM," he said.  "We have the baby boomers that are going to be retiring.  They kind of held that off in 2008 when the market tanked and their retirement savings went down quite a bit.  That's recovered since then.  So, now they're retiring, the economy's on the rebound and the companies need talent."
Students lined up in front of booths and answered questions about career achievements and previous experience.  MTU students have a great reputation as evident by the over 90% job placement rate for those graduating from Tech, along with payscale.com ranking Michigan Tech graduates in the top ten amongst the highest salaries in the country.
"I call them "well prepared and job ready"," John Dau from DTE Energy said.  "The university does an awesome job with the students to get them prepared, not only for internships and co–ops, but extremely well prepared for the working world once they come out of the university, ready to work full time."
Amazon.com made its first appearance ever at the career fair, and are looking for specific skills that they are sure to find here today.
"We look a lot for algorithms, data structures, design patterns…so Amazon is all about big data and machine learning. And lots of large scale, high computational systems, with hundreds of thousands of transactions per second. So having software engineers and developers that are really strong in the fundamentals is core," Garret Gaw from Amazon said.
What goes into preparing for attending a career fair?
"I generally prepare by highlighting my top companies and making sure that my resume is all up to date and talking about my strong points. Just coming in, relaxed and confident. It's nothing more than a mere conversation and if you go in with a friendly smile and a good attitude, then good things happen," senior mechanical engineering major Brent Cousino said.
It is a bit of a nerve-racking experience but many of them know just how invaluable this experience is.
"I think they help tremendously. I never would have even considered half of these companies. I hadn't heard of half of these companies before today and now three of them that I've never even talked to or even considered working for, I have interviews with and I might work there in the future. And to me, it blows my mind," senior computer engineering major Tanner Howell said.
At the end of the day, many of these students walked in with the hope of speaking to someone important and walked out with handful of great opportunities.
And it's all thanks to Michigan Tech and its reputation as a great place to hire employees.
---
Mark Malekoff jokingly refers to his four companies as his "backup plan." The original plan was to become a star in the National Hockey League.
The Grande Prairie-born-and-raised entrepreneur was captain of the local Alberta Junior Hockey League team, the Storm, before receiving a scholarship to play for the Huskies at Michigan Technological University. Plans for an NHL career changed in Michigan, however, as Malekoff studied finance and developed an interest in business and entrepreneurship that set him up to run his own company – then companies – back in Grande Prairie.
After graduating in 2008, Malekoff returned home where he quickly found work as a business analyst with Bonnett's Energy Corp. and found an opportunity to volunteer coaching AAA hockey. Not one to sit still, he also began working towards a certified management accountant designation, which he received in 2011.
In what he calls his "spare time" between working at Bonnett's, studying for his CMA and coaching, Malekoff took on enough debt to purchase three rig mats and begin renting them out to energy services companies in and around Grande Prairie. That was the beginning of his first business, TriTech Energy Services Inc., which now rents sour service storage tanks, pipe skids, manifolds and flowlines in addition to rig matting.
Inspired by British billionaire Richard Branson's "screw it, let's do it" attitude, Malekoff eventually took on more debt to acquire a safety and training business in June 2013. That acquisition became TriTech Safety and Training Inc., Malekoff's second company, which provides at least four courses a day for oilfield personnel throughout Alberta and northeastern B.C. who require first aid, hydrogen sulfide or workplace hazardous information system training.
Was taking on debt nerve-wracking? Definitely. "You go from college, where you don't have a lot of cash, to taking on a mortgage, and then taking on debt payments," the now 30-year-old serial entrepreneur says, though he echoes Branson's optimism: "Just go for it."
This year, he decided to launch two more companies: Nakoda Energy Services and Rise Energy Services. The first business targets hydraulic fracturing companies and hopes to sell them third-party heat-capturing inflatable lid systems for their frack tanks, which he says can reduce water heating budgets for pressure-pumping companies by $20,000 per day. Rise Energy Services meanwhile offers downhole tools services to drilling companies in the field.
Asked if he has always had an inclination toward entrepreneurship, Malekoff says no. Not when he was a young boy or a teenager – he didn't have time. "I was always pretty tied up playing hockey," he says.
This story was written by Alberta Oil Staff for Alberta Oil Magazine.
---