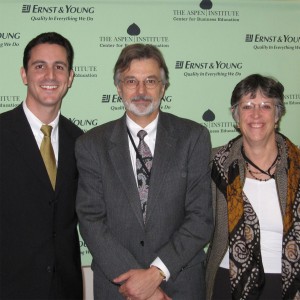 Dean Radson met with other award recipients of the Aspen Institute's Top 100 MBA Programs at an event sponsored by Ernst & Young in New York City's Time Square this past week.
Pictured to the left, Dean Radson is joined by Rich Leimsider, the Director of the Center for Business Education at the Aspen Institute, and Judith Samuelson, Executive Director of the Business and Society Program of the Aspen Institute.
Of the 100 schools recognized through the Beyond Grey Pinstripes event about 50 were in attendance at the ceremony.
"We are proud to receive this recognition and will continue to strive toward program excellence," Darrell Radson, stated regarding the event.