On June 22, 2006, Michigan Tech's Board of Control approved the new MBA for the School of Business & Economics. A spin-off from the MSBA which was reintroduced in 2004, the new fast-track MBA will enable students to complete an MBA in one year.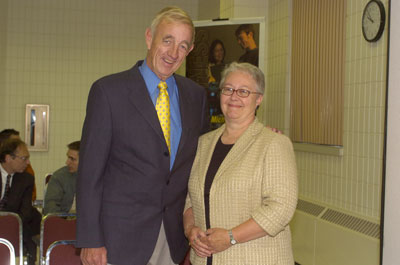 "The program meets the demands of today's fast-paced and technologically rich workplace," said Dean Christa Walck, "and will make a significant contribution to Michigan Tech's efforts to integrate business and technology. These MBAs will create the technology-driven businesses of the future."
Dave Brule '72 donated $250,000 to support the new master's program and additional donors have given or pledged $453,000.
The MBA targets undergraduate students with engineering, technology and science degrees. It adds a broad knowledge of business functions and business skills to give students a competitive advantage in the job market. The 36-credit program includes a core of business courses and 12 credits of electives that students can tailor to their interests.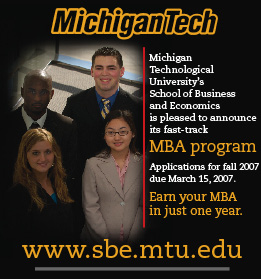 Associate Professor Sonia Goltz was named director of graduate business programs on May 8. Goltz has a PhD from Purdue University in industrial psychology and has taught at Tech since 1996. Her research investigates the phenomenon of escalation of commitment ("throwing good money after bad") and sex discrimination in the workplace.