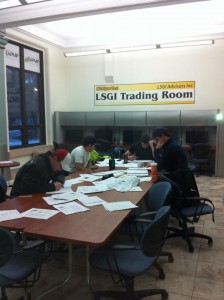 The School of Business and Economics awards annual scholarships to students who participate in the Applied Portfolio Management Program (APMP).  The scholarships are made possible by generous donors who have setup funds to recognize specific skill sets and characteristics in the recipients.  Each scholarship is awarded in the Spring of the academic year. We are very grateful to the generous donors that provide excellent opportunities to stand-out APMP students at Michigan Tech.
2012 Scholarship Recipients
Clarence Fisher APMP Scholarship – Jessie Patrick
Chester Reault APMP Scholarship – Todd Storm
Norb Verville APMP Scholarship – Mike Harri
Joe Dancy LSGI Scholarship – Dan Eskola
Hugh Makens APMP Scholarship – Pat Carroll
Jeff Call Memorial APMP Scholarship – Rachael Ristau
Scholarship Descriptions
The Clarence Fisher, Chester Rheault, and Norb Verville APMP scholarships recognize the impact these three former Advisory Board members had in founding APMP.  Recipients of these scholarships this year were: Jesse Patrick, Todd Storm, and Mike Harri, respectively.
As an APMP Board member from origination through today, the Hugh Makens APMP scholarship honors Hugh's continual support of the students and the program.  Pat Carroll is the 2012 recipient.
Dan Eskola was the recipient of the LSGI Fund Scholarship, also known as the Joe Dancy LSGI Scholarship.  This scholarship is awarded to the student who displays excellent academic achievement, expresses an interest in finance or applied mathematics, and demonstrates high moral and ethical characteristics.  The LSGI Fund is a hedge fund managed by Joe Dancy, a Michigan Tech alumnus from Dallas, TX.
Finally, the Jeff Call Memorial Scholarship was given to Rachael Ristau.  Jeff Call, a 2002 graduate of the School and the APMP, passed away unexpectedly in 2006.  To honor Jeff's contributions to the School and the APMP Advisory Board, together with Jeff's parents, the groups established the Jeff Call Memorial Scholarship.  It is awarded annually to the senior who demonstrates the highest degree of commitment to APMP—a commitment Jeff displayed every day during his time at Michigan Tech.