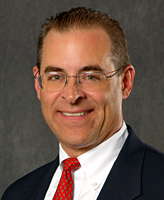 Dr. James Conley, Professor of Technology at the Kellogg School of Management, in Evanston, Illinois, was a guest presenter in the School of Business and Economics on November 2, 2007. Dr. Conley was an advisor to one the SBE's new business law faculty, Assistant Professor David Orozco.
While on campus he visited with faculty, talked with students in the classroom, and gave a campus presentation. His presentation was titled "Innovation & Invention: the emerging role of engineers and technologists in wealth creation." His talk described how the US intellectual property system is designed to reward the innovator engineer, scientist, artist and inventor. He described why knowledge of property rights is critical to obtaining a competitive advantage in the marketplace and why ignorance ensures that the commercial benefits of innovation will be enjoyed by others.
Dr. Conley serves on the faculty of both the Kellogg School of Management and the McCormick School of Engineering at Northwestern University. He is a faculty contributor in the Kellogg Center for Research in Technology & Innovation and the Institute for Design Engineering and Application (IDEA).
Before joining Northwestern in 1994, he spent seven years at the Ryobi Limited Group in Japan. At Ryobi, he co-invented the first hand-held 26.2 cc, OHV 4-cycle engine for the lawn care markets with MTU Alum Ronald Hoffman.