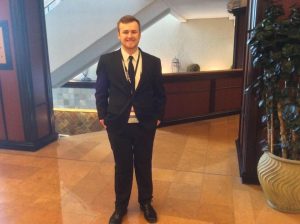 MENOMINEE — The Menominee High School Business Professionals of America (BPA) team has its second student in six years be a national qualifier.
Senior Coleton Kotecki, president of Menominee's chapter of BPA, is the school's sole qualifier for nationals, which will be held May 8-13 in Dallas, after placing at state in Grand Rapids, Mich.
"I'm honored to be able to represent Menominee, the U.P. and Michigan because I'm only the school's second national qualifier in the past six years," he said.
Kotecki competed in the category of extemporaneous (extemp) speech. In this event, participants are given limited-preparation time to develop a speech based. Topics in BPA extemp tend to be focused on business aspects.
"BPA's extemp category is very similar to impromptu speaking," he said. "First, I go to the prep room. I have eight cards lying face down with business related topics on the other side. I choose two of them, not knowing what the topics are. Once I see the topics I have to choose one of the two to give my speech on.
"I am provided with three index cards. I'm not allowed to use any references besides my brain. I have 10 minutes to prepare my speech. Once my time is up, I must deliver a two-to-four minute speech relating to my topic to a panel of two to three judges."
The first competition the team attended was the Regional Leadership Conference at Bay College in Escanaba, Mich. At regionals, he placed first.
"The top four at this event move on to states," he said. "Roughly 25 students compete at this level."
Those students who made it to state competed at the State Leadership Conference at the Amway Grand Hotel in Grand Rapids.
"I competed against 40 kids at this level and the top three made it to nationals," he said.
Kotecki will be competing against 77 students from 25 states and Puerto Rico in a little over a month.
"It's going to cost about $1,400 for my advisor (Mary Fay Daigneau) and I each to go," he said. "The National Leadership Conference is not only a great honor to be a part of, but it's quite expensive."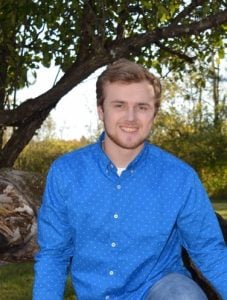 Kotecki is in need of donations in order to compete in Dallas.
For those interested in donating to help him make the trip, contact Kotecki at 715-923-6778 or koteckicoleton@gmail.com or Daigneau at 906-863-7814 or dagineaum@gomaroons.org. Donations can also be accepted on Kotecki's Go Fund Me page.
"While participating in this event, I plan on expanding my leadership skills, mastering my speaking skills, and developing relationships with new people," he said. "I plan to take what I learn from the National Leadership Conference with me to Michigan Technological University this fall, where I plan to major in marketing at their School of Business & Economics."
– Chelsea Ewaldt, EagleHerald Staff Writer