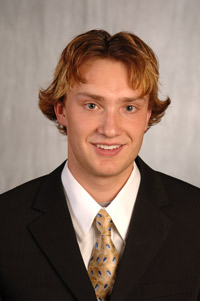 Sophomore goalie and business administration major Michael-Lee Teslak is the first Husky to receive All-WCHA laurels since the 2004-05 campaign when Colin Murphy earned All-WCHA First Team honors, Lars Helminen was selected to the Second Team, and senior Cam Ellsworth was picked to the Third Team.
Teslak, a 6-2, 170-pound goaltender, earned his first All-WCHA award after filing an 11-7-3 overall record, including an 8-2-2 mark in his last 12 contests. He is tied with Jim Warden (1975-75) for first all-time among Husky goaltenders for shutouts in a season after notching his fourth blanking of the campaign last Sunday (March 11) at Colorado College.
The owner of a 1.90 goals against average and a .919 save percentage, Teslak leads the WCHA in goal against average and ranks fourth nationally in the same category. He was named WCHA co-Defensive Player of the Week Feb. 27 and has gained WCHA weekly honors four times in his two-year career.
Story courtesy of Athletic Communications