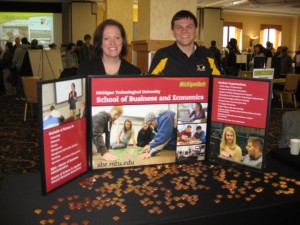 Preview Day 2010, held each spring, is a great opportunity for future students to check out the campus, meet new students, and learn more about the available majors at Michigan Tech.
The School of Business and Economics hosted a luncheon for students interested in pursuing business degrees. During the luncheon students spoke about their experiences as business students at Michigan Tech. The showcase, held in the Memorial Union Building (MUB), gives each student the opportunity to see what interests them. I was able to talk to students from a variety of majors.
It was fantastic to talk to such a diverse group of incoming students, many of whom had a genuine interest in attending the School of Business and Economics or adding business as a second major. Joanne Chalgren, Outreach Coordinator for the School of Business and Economics, and I had such a terrific reception from everyone and many of the students who approached us had great questions.
After the Campus Showcase, we gave tours of the Academic Offices building to some students attending during the fall and their families. It was a great opportunity to meet some faces I'm sure I'll be seeing around next Fall! I look forward to next year, and I know we have a great incoming class.