Alumni Offers His Career Experiences and Advice for SBE Students
Ronald Staley has engineering and business degrees from MTU and gives advice and talks to students about what he does on a daily basis.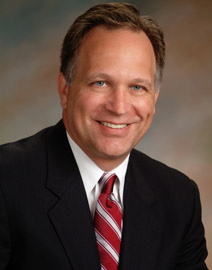 SBE: What was your major and concentration at MTU?
RS: I received my AAS in Civil Engineering Technology from MTU in 1977. Then in 1980, I received my BS in Business Administration with a major in Industrial Management. I graduated with honors in both degrees. While studying at MTU, I was able to work summers and during school, for several great engineering firms, giving me exposure to the construction industry which would be the direction I would ultimately take my career.
SBE: Did you have any experiences or classes at Tech that helped you compete in the work force against other students?
RS: What MTU offered was a very hands-on education. By having the combined technical and business degree, I look at issues related to construction with both a strong technical understanding of how buildings work and a business understanding on overhead, return on investment, balance sheets and income statements. Tie to that leadership skills learned from various associations, and I have been able to move into various professional organizations as board member and officer.
SBE: What does your company do?
RS: The Christman Company is a full service construction company providing Construction Management, General Contract, Design/Build and Property Development. Founded in 1894, the firm is owned by current management and implements institutional and commercial construction of educational, health care, and historic preservation projects. Projects range from $5 million to over $200 million in size with offices throughout Michigan and Washington, DC.
SBE: What is your current position?
RS: I am Vice President of National Historic Preservation and Mid-Atlantic Regional Office for The Christman Company.
SBE: What are you main job responsibilities? What do you do on a daily basis?
RS: In this role, I am responsible for executive direction and leadership for Christman's Historic Preservation Group. I started this business unit in 1992 after managing the $58 million restoration of Michigan's State Capitol. Since that time the group has implemented restoration on over $500 million of historic preservation work including work at the White House, Virginia's State Capitol, Henry Ford Estate Fair Lane, Notre Dame's Administration Building, and dozens of other high profile and historically significant Landmark structures. I have worked on projects in over a dozen states and on professional teams on 500 year old wooden churches in Poland and Slovakia.
I market our services to architects and owners and develop marketing and competitive strategy. I oversee the preconstruction and construction phase services on approximately eight projects from Michigan to Washington, to Georgia.
I develop fee proposals and cost estimates for each of these projects and oversee staff who manage the day to day construction operations. I lead development of the historic preservation training and quality programs for the company.
SBE: Do you have any advice for current students in the School of Business and Economics?
RS: Balance your business studies with a technical specialty. Too often I see students get a business degree but have no idea of the industry which they wish to use the degree. Understanding the business concepts of various industries give more depth to the educational process and ultimately to the value of the education received and the salary to be paid. Getting into leadership roles with university organizations is another great way to develop skills which are invaluable in the future.
It is said your university education will serve as the foundation for your future career. Make the foundation as large as possible with every opportunity you can experience. For, with the larger the foundation, the greater the career it will support.