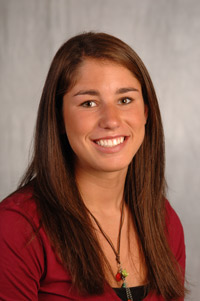 Katie Wysocky (Business Administration, Whitefish Bay, Wis.) of the Michigan Tech women's basketball team is one of 10 freshmen from across the nation to be named to Division II Bulletin's All-Freshman Team.
The 6-0 forward, who was also named the 2006-07 Great Lakes Intercollegiate Athletic Conference Freshman of the Year, is the first Tech player to gain national all-freshman accolades.
Wysocky finished her rookie campaign ranked third in the GLIAC in field goal percentage (54.1), eighth in rebounding (7.3), and 17th in scoring (12.5). She tallied 17 games in double figures including five with 20 or more points.
The total of 190 rebounds by Wysocky was the most at Tech since All-American Dawn Zarling pulled down 247 in 1993-94. Wysocky's season field goal percentage ranked as the seventh-best in school history.
Wysocky is the first Tech player since Andrea Novak (Division II Bulletin All-America Fourth Team) to earn national honors.
2006-07 Division II Bulletin All-Freshman Team
Johannah Leedham, Franklin Pierce
Amelia Simmons, Wilmington
Katie Wysocky, Michigan Tech
Lauren Beckley, Shippensburg
Jade Smith-Williams, Chico State
Latoshia Lawrence, Kentucky Wesleyan
Cassidy Murillo, Seattle
Cristina Yarbrough, Central Oklahoma
Alyssa Green, Nebraska Omaha
Melanie Oliver, Glenville State
(Story courtesy of MTU's Athletic Communications)