The Robert Graff/ Friend of the Alliance Award is given to an individual who has devoted a significant amount of time on a volunteer basis to KEDA's and the area's goals of economic vitality and improving the community's quality of life. The Award is named after Robert Graff, a banker who, upon retirement, worked diligently with KEDA to promote economic development.
The individual receiving the Friend of the Alliance Award works behind the scenes and does not expect recognition for his or her accomplishments, does not financially benefit from his or her efforts, and shows a true commitment to the economic health and well-being of the community.
This year, the Robert Graff award was given to Joel Tuoroniemi, who became a champion of a project that will bring many tourists, including silent sport enthusiasts, into the Keweenaw Peninsula year around, will help to flatten out the tourism "shoulder" months, and that will almost certainly act as the catalyst for start-up and expansion of many other Keweenaw businesses.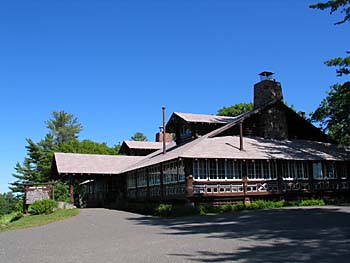 Picture © 2005 Michele Anderson
The winterization and expansion of the Keweenaw Mountain Lodge, originally built in 1935 by the Civilian Conservation Corp., has been an economic development project waiting to happen for many years. But it took this year's award winner to make it happen. He pulled together a team of 12 motivated and talented volunteers, recently re-named the Keweenaw Mountain Lodge Advisory Board, that together with the Keweenaw County Board of Commissioners and UP Engineers and Architects, arranged for a comprehensive planning study to be conducted that paved the way for the approval of over $3 million of federal and state loans and grants in addition to local monies to make the project happen.
These monies will be used to winterize the Keweenaw Mountain Lodge and 19 cabin and motel units, construct a 6,000 sq. ft conference center, improve the facility's infrastructure and purchase equipment.
This project will directly create 40 new jobs and indirectly create another 255 jobs for Keweenaw residents. It will also have a $5 million economic impact on the local community in its first year of operation, and will benefit businesses throughout the Keweenaw Peninsula.
Related Links