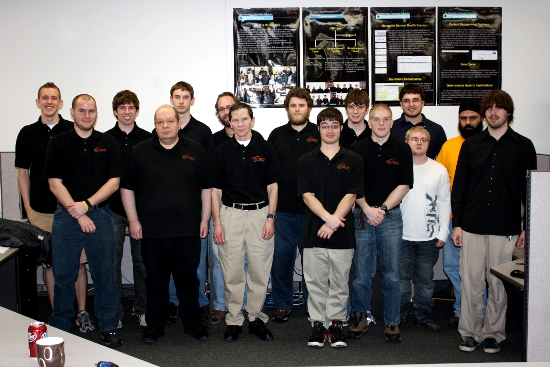 The Enterprise exists to make other people's jobs easier, said team leader Adam Gibson, a management information systems major in the School of Business and Economics. "We make web-based information solutions," he said Thursday at the Undergraduate Expo.
For client Marquette General Hospital, that meant customizing calendar software that lets them better schedule video conferences, particularly between doctors and patients. Their initial effort worked so well, Gibson said, "they've called us back to add more features."
On campus, IT Oxygen is working with Human Resources, examining their processes in hopes of improving efficiency and evaluating their software to make it easier and faster to update records. "They've done a very good, professional job so far, listening to us and making every effort to meet our needs," said Bobby Escobar, associate director for immigration and faculty, HR. "We're looking forward to seeing their final report and recommendations." At the Van Pelt and Opie Library, an Enterprise team is developing software to index the many electronic journals that the library now receives.
The Rozsa Center is using their services to monitor ticket sales, and they are helping the School of Technology manage expenses and work flow for its Senior Design projects.
"They are doing really well," said their advisor, Robert Maatta, a professor of practice in the School of Business and Economics. "We try to complement what we do in the classroom–small projects and theory–with ITOxygen's real-world experience, including getting clients and developing applications to meet their needs."
Students learn a lot, but that's not the only benefit. "One goal of ITOxygen is to help students make some money to pay for their education," Maatta said. "The Enterprise makes enough money so we can pay them. Rather than work at a fast-food restaurant, they can work part-time at a job that furthers their education, and when they graduate, they'll be prepared to go off and do something productive."
That's how it's worked out for Gibson and fellow ITOxygen team member Aman Bamra. "We're starting a business in the SmartZone based on artificial intelligence and cloud computing," said Gibson. "The AI will be your personal assistant, gathering the information you need." The skills Gibson developed in ITOxygen made it possible, he said. "I learned more by the end of my sophomore year than most students learn as seniors."
Bhamra agreed. "It connects your classroom concepts to real work," he said.
ITOxygen is sponsored by the Dow Foundation, GE Aviation and Human Resources at Michigan Tech.
Learn more about ITOxygen at Michigan Tech.
by Marcia Goodrich, senior writer. Originally published in Tech Today.