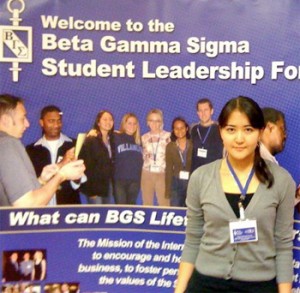 School of Business and Economics Beta Gamma Sigma student representative, Asel Otunchieva, recently traveled to a Student Leadership Forum in Missouri. Read about her experiences below.
Beta Gamma Sigma Leadership Forum was held this year in Saint Louis, Missouri. There were about 80 BGS students present from universities from all over US and some other countries. The forum lasted for three days, and it was a wonderful and a very useful experience.
There were many speakers, ranging from the representative of GMAT test who provided general information about the test and gave us some useful tips on how to get a better score, to inspirational speeches describing some amazing life experiences, to a self assessment presentation which helped us find out more about ourselves in relation to others, about our goals, personality types, and ways we can use this information to help us succeed.
One of the things that BGS students brought to attention during the forum was the fact that BGS Honor Society does not have a strong visual presence in the universities and that the students do not know much about it. The student acceptance rate is not very high, primarily due to lack of information about the Honor society. Therefore, it would be nice if BGS and faculty representatives from all the universities made it their goal to educate people about the purpose and benefits of Beta Gamma Sigma Honor Society.
Overall, the forum was an amazing experience, and I am very glad to have been a part of it. I would like to thank Beta Gamma Sigma for organizing this wonderful event, professor Mari Buche for encouraging me to be a part of BGS Honor Society and informing me about the forum opportunity, professor Sheila Milligan for always believing in my abilities, and Michigan Technological University for providing a great education and many leadership opportunities like this one.