Almost 30 alumni joined 16 Michigan Tech students, School of Business and Economics faculty member Bob Mark '72, and development staff Adam Johnson '98 at a student reception at the Computer History Museum on March 8th San Jose, CA.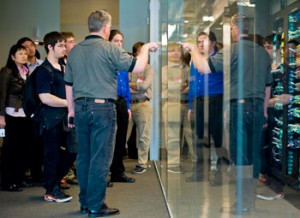 Alumni Shankar Mukherjee '86 and Dale Luck '79 gave testimonials and entrepreneurial words of wisdom to the students, and technology company Barracuda Networks spoke about their success with Michigan Tech employees, and compatibility of the work ethic of the Bay area to the hard working, technical nature of Tech students. Alumna Pooja Gupta '03 said, "It's really great to see all the interaction between the students and the alumni. What an incredible opportunity for everyone."
The students spent their Spring Break touring hi-tech companies in Silicon Valley during the day, and exploring San Francisco by night. The students paid their own way in an effort led by the School of Business and Economics.
Some highlights included a full morning on Google's Mountain View campus, (spearheaded by a trio of Googlers including Tech alumna Danielle VanDyke '06,) a presentation and data center tour at Brocade Networks led by alum and donor Dave House '65, and a technology tour of alum Tom Porter's '68 Napa winery.