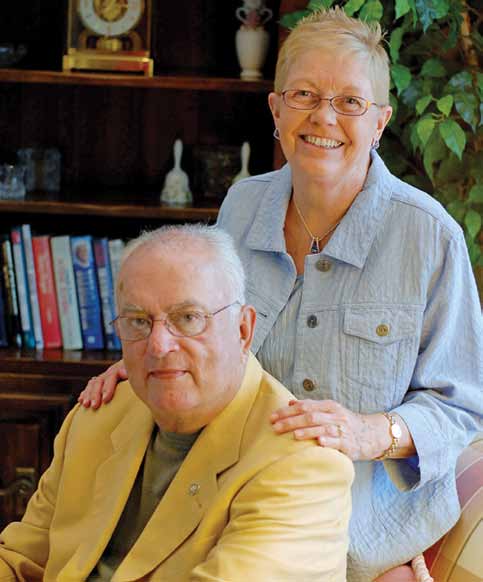 Rick Berquist has been associated with four universities in his life: He studied at Michigan State, the Colorado School of Mines, and Georgia Tech; and he has been a leader at Michigan Tech for twenty years.
"I learned more at Michigan Tech than the other three universities combined," he says now. "I work with a lot of good people making good decisions. Being associated with people of that caliber has been rewarding." And, although he's not a business alum, the chemical engineering major says he gained his business acumen through the school of hard knocks.
Berquist served more than ten years on the Michigan Tech Board of Control and another ten years as a trustee of the Michigan Tech Fund. "I developed a taste for Michigan Tech," he says. "It has become very special."
One of the things he learned at Tech was fundraising. "I learned that anytime you lead a fundraising effort, you give mightily." He says that with both conviction and a chuckle.
That realization led Berquist and his wife, Joan (Jo), to establish an endowed professorship in the School of Business and Economics with a $1 million estate gift and to fund the position during their lifetimes with annual giving. "I put my money where my mouth is," he says, "and we get a great deal of satisfaction by doing this."
They support the School of Business and Economics because it's Berquist's belief that engineers need to be well versed in technical issues and business skills. "Engineers need to get businesses going," Berquist avows. "They need to bring forth products and services that help the country. Also, Michigan Tech does a great job of promoting teamwork, and that's a big part of any success—create teams that make things happen."
"This is a major gift in our School—not simply in the amount donated, but in the impact this endowment will have on our academic programs and our research," says Dean Darrell Radson. "This gift will help us continue our mission to integrate the experience-based learning that will develop leaders in global business and innovation."
Berquist says he emulates his father, who was a businessman known for his persistence and his product. "He pushed forward and established something for the good of the people. That's important. You need them as customers." His father started a propane distribution service in Carney, Michigan, in 1945, and he grew the business into home heating and propane transportation. Rick worked for his father and learned about entrepreneurship from him.
The Berquist professorship will also help the School build a core team of faculty in the areas of entrepreneurship, innovation, and business strategy. The professor will also be directly involved in teaching entrepreneurship classes and advising the Business Development Experience, where business students write and present business plans for new technologies being developed in engineering Senior Design courses and the Enterprise program. Saurav Pathak has been announced as the new Berquist professor.
This article was originally published in Impact, the Michigan Tech School of Business and Economics magazine.