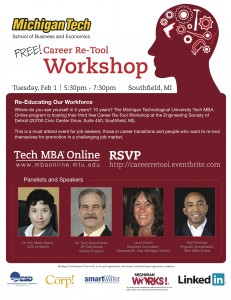 The third Career Re-Tool Workshop with a special panel discussion about "Re-Educating our Workforce" will take place on February 1, 2011 at the Engineering Society of Detroit in Southfield, MI. The event is sponsored by Michigan Tech's School of Business and Economics Tech MBA Online program.
The workshop features panelists and speakers from LinkedIn, General Motors, Michigan Works, and Sakti3. The Keynote session will be led by CEO of Sakti3 Dr. Ann Marie Sastry launching educational, research and business efforts to support the growing vehicle electrification industry.
Registration Link: http://www.careerretool.eventbrite.com
Workshop Information
Date: Tuesday, February 1, 2011
Time: 5:30pm – 7:30pm (Registration starts at 5:00pm)
Cost: FREE
Location: Engineering Society of Detroit 20700 Civic Center Drive Southfield, MI 48076 (View on map.)
Workshop Agenda
Re-Educating Michigan Workforce: The Startup Story of Sakti3 – Dr. Ann Marie Sastry
Re-Educating our Workforce Panel Discussion: Dr. Terry J. Woychowski, Dr. Ann Marie Sastry, Lauren Rosen, David B. O'Ryan, and Hajj Flemings (Moderator)
How LinkedIn is Connecting Talent and Opportunity – David B. O'Ryan, LinkedIn.com
The Value of an MBA – Hajj E. Flemings, Tech MBA Online
Workshop Description
Where do you see yourself in 5 years? 10 years? In uncertain economic times, it's very important to evaluate your career planning strategy and to position yourself to grow personally and professionally. The Michigan Technological University Tech MBA Online program is hosting their third Career Re-Tool Workshop at the Engineering Society of Detroit in Southfield, MI.
This is a must attend event for job seekers, those in career transitions and people who want to re-tool themselves for promotion in a challenging job market. Attendees will have the opportunity to evaluate educational opportunities and the value of higher education in reference to their career objectives.
This free event is open to the public and will empower people to strategically re-tool their careers by re-thinking education, social networks to aid in job search, and personal branding to position themselves for success.