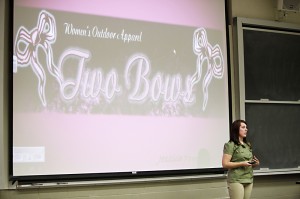 The Entrepreneur Support Center (EDC) is making space for new businesses, and two Michigan Tech students are among the first tenants.
A collaboration among the MTEC SmartZone, Finlandia University and the Michigan Economic Development Corporation, the EDC is located in the Jutila Center in Hancock and allows access to office space, equipment, training and other start-up resources, according to a press release.
"The center provides entrepreneurs with a short-term office and professional guidance to launch their businesses," said MTEC SmartZone Program Director Jon Leinonen.
Jess Tompkins, a junior in management, is taking advantage of the space.
"I'm planning to start a business for women's outdoor apparel, Two Bows," she said. "The Entrepreneur Support Center provides a fully operating space that I couldn't afford otherwise. Within a couple of weeks, I will have my partnership set up and be planning my initial product launch."
Collin Stoner, an electrical engineering student, was also one of the first to register at the ESC. His Selene Photonics and Automation, which will manufacture drivers for electric motors, was just created, and he appreciates the business aspect of the center.
"I am an engineering student with little business experience. The ESC advisors have filled the gap in my business smarts, making my venture possible," he said.
Bonnie Holland, director of the Jutila Center, stressed the importance of access to expertise.
"Both Jon and I are located in the building to help," Holland said. "Partnership of the two landlords [Finlandia University and MTEC SmartZone] is bringing the entrepreneurship program forward."
Local business leaders and industry professionals will also be tapped to help the entrepreneurs start their businesses, the press release said.
"With assistance from business mentors, most entrepreneurs will be able to complete the start-up steps, then locate into one of the local business incubators to keep growing," Leinonen said.
For more information on the center, contact Jon Leinonen at 487-7004 or info@escenter.biz .