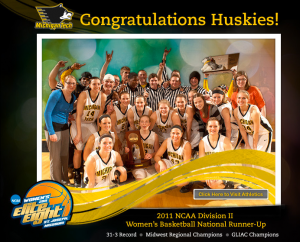 Congratulations to the 2011 NCAA Division II Women's Basetball National Runner-Up!  What a fantastic season! Special accolades go out to coach Kim Cameron, Lucy Dernovsek, Lindsey Lindstrom, and Lisa Staehlin; all past or present representatives from the School of Business and Economics.
Our lady huskies have also collected a number of awards from the GLIAC this season. Kim Cameron was named GLIAC Coach of the Year. In addition to Cameron, Dernovsek, Lindstrom, and Staehlin earned recognition from the conference on All-GLIAC teams. We're proud of you lady huskies! Congratulations again!
A tribute and welcome home:
[youtube]http://www.youtube.com/watch?v=gmj3vACa9I0[/youtube]
More season highlights from Tech Today:
Lucy Dernovsek (Holcombe, Wis./Lake Holcombe) earned All-GLIAC North Division First Team accolades. Lisa Staehlin (Tinley Park, Ill./Andrew) was  named to the All-GLIAC North Division Second Team. Staehlin and Lindsey Lindstrom (Superior, Wis.) garnered GLIAC North Division All-Defensive Team accolades.
Cameron has coached the Huskies to a 24-2 record, a No. 5 national ranking and a No. 1 regional ranking in her first season at the helm of the program. The Alpena native took over an inexperienced group of players that had started just 12 games between them and led the group to the program's fourth straight GLIAC North Division title and 11 GLIAC crowns overall. Tech compiled an 18-1 GLIAC record, tying the school record for fewest league losses.
Dernovsek leads the Huskies in scoring (11.9 points per game) and rebounding (8.3 per game). One of the best all-around players in the league, Dernovsek ranks among the GLIAC leaders in scoring, rebounding, field goal percentage, 3-point percentage, assists and blocks.
Staehlin averages 11.5 points and 5.0 rebounds for the Huskies. She has four 20-point games this season and ranks second in the GLIAC in field goal shooting at 59.5 percent.
Lindstrom has guarded opponent's top player all season and is a big reason the Huskies lead the league in both scoring defense (53.5) and field goal percentage defense (34.3). The 6-0 forward also averages 8.5 points and 7.3 rebounds per contest.