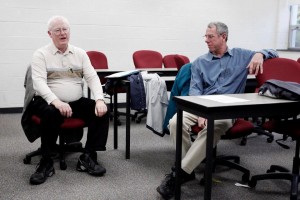 For the first time ever, students were given a unique opportunity to explore the seven undergraduate majors within the School of Business and Economics in individual, hour long session for each field of study.
Meet Your Major Night consisted of  three evenings with faculty, alumni, and current students from each major to explain more about the degree options.  Faculty members discussed curriculum and what to expect from each major. Alumni described their Michigan Tech experience—internships/co-ops, participation in student organizations, their present careers, and plans for the future—either in person or by video conferencing.
Meet Your Major Night was well received by students, as they had a chance to talk with Michigan Tech alumni that are working in their fields of study, and learn what companies are looking for when hiring.
Business management and marketing student, Alix Rugg, commented,  "It helped me learn how MIS fits into the large picture of the business world", and also learned how important internships are for future employment.
Finance student Warren Kesti mentioned that, "The session gave me a solid foothold to make a decision on what major to pursue."
Carly Benson, Recruiter and Outreach Coordinator for the School of Business and Economics, orchestrated the first time event to present the seven majors within the school to current students studying business and economics as well as other students who may be interested in changing their major.
After the event, Benson noted, "This event was a great opportunity for our faculty and alumni to showcase the great things that can be done with each individual School of Business and Economics degree. It was a great success and we look forward to repeating the event."