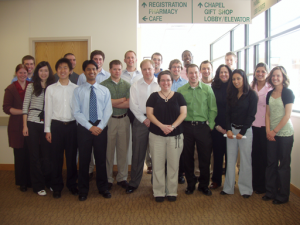 MBA student Cynthia Hodur learned firsthand about getting rid of trans fats, those ubiquitous bad food particles. On a student team in Dana Johnson's operations and quality management class, she researched and applied her knowledge to a local hospital project and got great results.
"Instead of reading about it, we actually did it in a real-world way that will help the community," she says of her experience on behalf of Portage Health. The hospital was the first in the Upper Peninsula to go trans-fat free, with help from the Tech students.
Hodur appreciated the opportunity to tackle such a timely problem with her team's two-pronged approach, especially since she works as a facilities and event coordinator at the Memorial Union.
"First, our research group focused on policy," she says. "We looked at what had been done globally, with the United Nations, and then we researched further from there: federally, state, and at the organizational level."
She says the American Heart Association's trans-fat lawsuit with McDonald's restaurants was important. In the suit, McDonald's was supposed to change its oil, but it didn't. She had inside knowledge there, having worked for the American Heart Association at the time.
"We were working with the schools then," she says, "building on an existing program."
That background information also helped her at Tech, where her second group–applying the information they'd gleaned–looked at recipes and various food products to get rid of the trans fats at Portage Health.
"We looked at everything from cookbooks to working with vendors to vending machines," she says. "We found substitutes for cooking, like applesauce for oil, and for baking, where a substitute for shortening has been used successfully, for example."
Along the way, she learned from her teammates.
"There was a variety of people, and we were paired by interests," she says. "One of the women was a Six Sigma Greenbelt expert on flowcharts!" So, Hodur's process-chart-producing expertise was accelerated.
And they weren't all MBAs, said Johnson, an associate professor in the School of Business and Economics. They had graduate students from civil engineering, mechanical engineering and elsewhere. Focusing on the same goal, Johnson said, they would come at it from different angles.
Johnson also stressed the importance of "students working with a real, live project, instead of case studies, which become outdated very quickly."
The project did indeed take a well-rounded approach to the problem. "The students looked at cost benefits, working with vendors Sysco and Reinhart, even Portage Point (the hospital's long-term senior housing operation), and its food service customer relations," she said.
They worked closely with Paul Skinner, director of Portage's nutritional services, she said. He was important from a management perspective, and he was in charge of recipes.
"We looked at processes and procedures to make sure they are accurate," Johnson said, noting that they even looked at the definition of "trans fat-free," which can still include .49 grams of trans fats. Portage Health went below that measure, she said.
"The costs involved in going trans fat-free were not as significant as they thought," she added.
She also sees potential for future work.
"We plan on helping them with their seating capacity at Portage Health," she said. "We'll be working with them as they expand their capacity. We are also using a green perspective to identify environmentally friendly dinnerware."
They also plan on looking at the recycling in the hospital to make it more cost effective and efficient, Johnson said.
"We'll be looking at Styrofoam," she said, "how it can work within a recycling system."
This marks the fourth year for the class tackling problems for Portage Health, and she's also placed three interns into the organization.
Hodur truly enjoys the graduate school experience, including the Portage Health project, and her position at the Memorial Union. She has her sights set on a future marketing position.
"My husband and I moved here because we love the area," she said. "Working and taking classes at Michigan Tech have been a nice bonus."
———
This article was published in Tech Today on February 12, 2010 and written by Dennis Walikainen, senior editor of University Marketing and Communications.