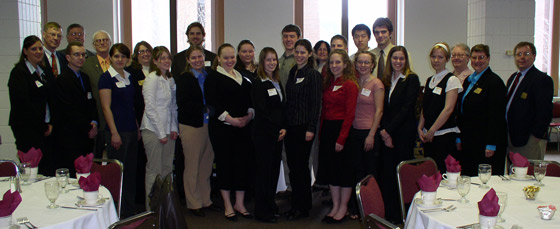 Only the best business students in the world, and the professionals who earned the distinction of "the Best in Business" during their academic careers, can claim membership in Beta Gamma Sigma. This year's Beta Gamma Sigma inductees from Michigan Technological University's School of Business & Economics have certainly earned that title.
Michigan Technological University and its School of Business & Economics congratulate the 20 students who have earned invitations in the 2006-07 academic year. They join an expanding worldwide network of more than 560,000 outstanding business professionals who have earned recognition through lifetime membership in Beta Gamma Sigma. Students ranking in the top 10 percent of the baccalaureate and top 20 percent of graduate programs at schools accredited by AACSB International – The Association to Advance Collegiate Schools of Business are eligible for this invitation.
Beta Gamma Sigma lifetime membership is truly an international honor. With the expansion of accreditation by AACSB International, membership is no longer limited to those who have studied in the United States or Canada. Beta Gamma Sigma has installed collegiate chapters and inducted students on five continents. The most outstanding Michigan Technological University students are eligible for the highest recognition a business student anywhere in the world can receive in an undergraduate or master's program at a school accredited by AACSB International.
The following students were inducted into the Michigan Technological University chapter of Beta Gamma Sigma at the Spring 2007 ceremony held April 17, 2007:
Graduate: Kallie Derouin, Katie Granlund, Nicholas Martin, Fan Ning
Seniors: Robert Frankovich, Jill Garrity, Allissa Kasprzyk, Mark Malekoff, Monika Malinska, Amanda Rosenberger
Juniors: Nichole Cholette, Brett Girard, Susan Mattila, Danielle Norton, Shannon Pennala, Kate Rogers, Mairi Smith-Risk, Duane Stephenson, Amber Tarver, Tiffany Tervo
Beta Gamma Sigma was founded as a national organization on Feb. 19, 1913. The first national honor society in business was a merger of three separate societies established to honor academic achievement in business at the University of Wisconsin, University of Illinois and the University of California.
With collegiate chapters on five continents, Beta Gamma Sigma today is truly an international society that remains dedicated to recognizing the most outstanding students of business and management. The Society serves business schools accredited by AACSB International in the 21st century knowing that its membership of more than 560,000 comprises the brightest and best of the world's business leaders.
(Story courtesy of the Michigan Tech Lode)