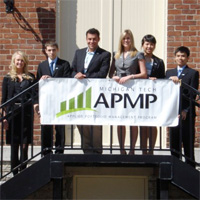 Michigan Technological University's Applied Portfolio Management Program (APMP) took runner-up honors at the University of Dayton's Redefining Investment Strategy Education (RISE X) conference and competition recently. View photos from the competition.
Michigan Tech's Gold Team portfolio had a 31 percent return this year and was narrowly defeated by the College of New Jersey in the value-style portfolio category. Fifty teams entered that category.
Investing proved to be challenging this year, given the state of the economy. "A lot of the schools didn't beat the market, but we did and that was a big accomplishment," said Ed Drouillard, a fourth-year finance major.
"I was shocked at the amount of money that schools are able to manage," noted Eric Tangko, fourth-year finance major. "Most managed between $100,000 and $250,000, where we had over 1 million dollars to invest."
RISE X includes student workshops geared toward learning investment strategies and the annual student-managed investment portfolio competition. Modeled after the World Economic Forum, RISE is the world's largest student investment forum. This was the tenth year of the competition, and Tech has won the value category three of those years.
"The student-managed portfolios remain competitive in a very difficult market, which reflects the tremendous learning opportunities these students are receiving," said David Sauer, director of the University of Dayton's Davis Center for Portfolio Management and managing director of the RISE forum.
A Learning Experience
This year RISE X hosted twenty-three keynote panelists from companies such as Hewlett-Packard, Moody's Investors Service, Merrill Lynch, Wells Fargo and many more.
Students attend a full day of workshops and presentations that cover popular topics in the field of investment strategy, such as alternative investments, ethics, fixed income, hedge funds, international markets, portfolio management perspectives and risk management.
"The equity research workshop demonstrated the amount of knowledge needed to analyze a specific sector," said Amanda Vogt, a fourth-year finance major. "The presenters complete a year's worth of research and then become experts in their individual fields and products, making it easier to identify investment strategies in that area."
The RISE Forum enables students to talk about their own experiences in addition to hearing the experiences of the keynote panel. Students also had the opportunity to discuss their applied investment programs.
Representing the Michigan Tech School of Business and Economics at RISE X this year: Eric Tangko, Ed Drouillard, Amanda Vogt, Roy Manninen, Zeng Jie, Mindy Becker, Efrain Munoz, Kyle Thornton and David Clapp. Associate Professor Dean Johnson is the founding director of the APMP.
About APMP
The APMP manages over $1 million in the equity and fixed income markets. APMP designated donations to the Michigan Tech Fund from alumni and friends provide support for student travel and scholarships. Learn more about the Applied Portfolio Management Program.