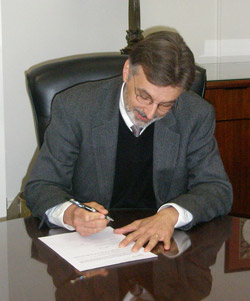 Dr. Darrell Radson and his family visited the SBE February 15th and while here made it official. They are moving to Houghton from Drexel University in Philadelphia, PA.
In the presence of faculty and staff he signed the contract that makes him Dean of the School of Business and Economics in August. The signing concludes a search that started in 2007 and promises to continue the growth of the School of Business and Economics. Dr. Radson's academic and administrative experience fits nicely with the strategic goals of the SBE and Michigan Tech.
He received his bachelor's degree in Political Science from Northwestern University and his master's and doctorate in Industrial and Operations Management from the University of Michigan. He served as associate dean in both the School of Continuing Education at the University of Wisconsin-Milwaukee and Boler School of Business at John Carroll University, and is currently department head of the Department of Decision Sciences at LeBow College of Business at Drexel University.
His experience includes curriculum redesign, management of MBA programs and online degrees, AACSB accreditation, and successful recruitment of faculty and increased research.