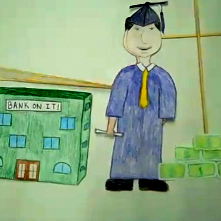 Are you thinking about your future? Your career? How about your retirement fund? If you aren't, maybe it's time you start.
Three Michigan Tech student teams were challenged to do just that as part of the 2010 iOMe Challenge to highlight the need to boost the US personal savings rate. Teams of graduate and undergraduate students from around the country submitted an essay and video as part of the competition.
Team members Coleman Segal and Adam Eidelsafy (and help from Thomas Gast on video editing), were finalists in the competition, just barely losing to Texas Tech. Now the organizers at iOMe have opened an online voting competition for the favorite of the top 5 videos and we need your help to win!
If you are interested in participating in the 2011 iOMe Challenge, contact Dr. Oliveira: emolivei@mtu.edu.
Check out their video
You can also view their video on Youtube (but please visit the iOME website to vote!):
[youtube]http://www.youtube.com/watch?v=BKVplvyUOtM&feature=player_embedded[/youtube]