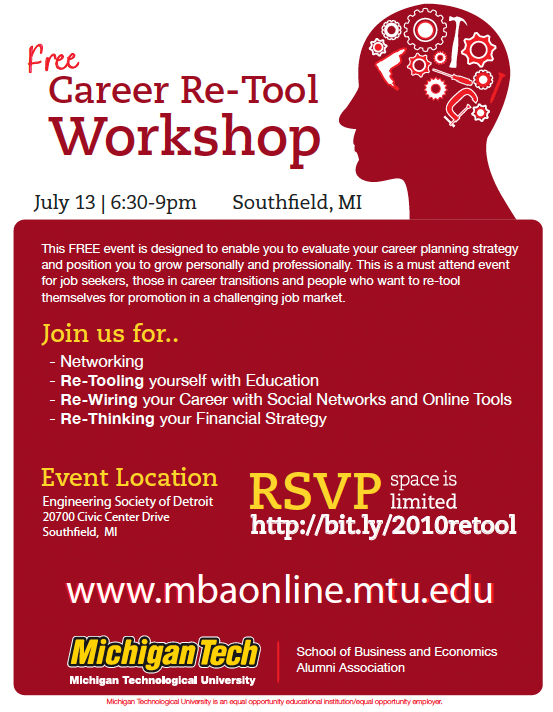 Michigan Technological University's School of Business and Economics in collaboration with the Alumni Association  has developed a Career Re-Tool Workshop to help you Re-Tool, Re-Wire and Re-Think your career and future.
This FREE event is designed to enable you to evaluate your career planning strategy and position you to grow personally and professionally. This is a must attend event for job seekers, those in career transitions and people who want to re-tool themselves for promotion in a challenging job market.
Register Today. Seats are limited.
Register at: http://bit.ly/2010retool
Speakers
Hajj E. Flemings – Personal Brand Strategist/Founder of Brand Camp University
Brenda Rudiger – Director of Alumni Relations at Michigan Technological University
Paul J. Hindelang – President at Results Systems Corporation
Agenda
Networking
Re-Tooling yourself with Education
We will explore the value of education as a career strategy to help you stay globally competitive in a challenging job market. This session will focus on the benefits of an MBA and higher education to empower you to reinvent and re-think your future.
Re-Wiring your Career with Social Networks and Online Tools
Come and learn how to rewire yourself through social networks and online channels to connect with companies and identify new career opportunities. Become a person that understands how to translate their network into value.
Re-Thinking your Financial Strategy
Has your 401K got you down? It is time to re-think your financial strategy and prepare financially for your career transition? Come and get fresh new ideas for investing, financial planning, insurance and social security.