Michigan Tech has a proud tradition of Career Fairs that are well organized and filled with both companies and well-prepared students.  In order for a Career Fair to be successful, it is imperative that there is a good turnout of both students and employers.
Preparation for an exam always improves performance!  Career Services offers students a variety of ways to get prepared for their future career through offering networking opportunities, practice interviews, resume assistance, and individual counseling.  These experiences are enhanced by our corporate partners who volunteer their time to help our students.
Our Fall Career Fair was record-setting in terms of company attendance.  The atmosphere was electric and the buzz on campus was palpable.  A detailed analysis of the registered companies reveals some interesting information.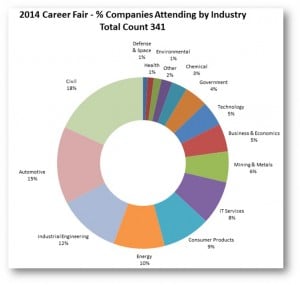 Many of the companies in attendance were new to our Career Fair.  61 companies (almost 18%) of the companies have not been to campus since 2010 or have never been to campus before.
Feedback from our students and employers continues to enhance the career fair experience.  In the spirit of continuous improvement, we hope to make each Career Fair better than the last.  With more events to help increase student preparation and career awareness, we hope you will find that the Michigan Tech Career Fair is the best place to meet your next employees.