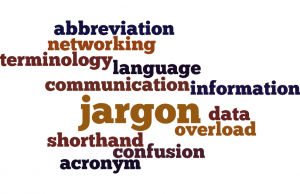 It seems like every magazine, newspaper, or journal is discussing topics like: Big Data, Information Overload, and Consumer Choice.  The general theme relates to the exponentially increasing amount of information and choices available everywhere.
Every business or industry has its own "shorthand" language, terminology, and nuances. In academia, we sometimes get trapped in discussing "Learning Outcomes".  In business, the focus is on the quarterly results, ROI and EBITDA.  In politics, the overnight poll results lead the evening news after every debate with qualifiers about response rate, accuracy, and confidence.
Recently, I attended an event at our Forestry Building where a variety of Forestry and Natural Resources companies had gathered to meet with students.  Just like any other networking event, companies and students were trying to get to know one another.  As I joined conversations, some portions of of the discussions were like a foreign language to me!  I was amazed by how many abbreviations, jargon, and "Three Letter Abbreviations" (TLA's) we use to be efficient in our communications.  I am sure I've had conversations with my peers that were confusing to others throughout my career.
In January 2015, Michigan Tech had our first ever "Medical Careers Week" on campus.  This year, in January 2016, Career Services has again partnered with different departments across campus for another week designed to help students understand all of the different aspects of careers in Medicine, Allied Health, Informatics, and Biomedical Engineering.  These days are structured with both afternoon and evening components to allow students to fit these topics around their busy class schedules.
Many Michigan Tech students assume that their degree in Engineering will lead to a job in manufacturing or design.  However, as trained problem solvers, an Engineering degree can be an excellent starting point for a career in medicine.
As we continue to build a Career Culture on campus, the depth and breadth of these career explorations are great learning opportunities.  At a minimum, participants become aware of the complexities of something beyond their specific field of study.  Ideally, these events help everyone expand their career "comfort zone" to have a better understanding of the world we live in.