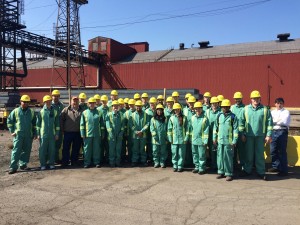 Huskies have a long and proud history of careers in the steel industry.  To help students learn about the opportunities available to them, ArcelorMittal partnered with Michigan Tech to transport a bus full of students from Houghton, MI to Northwest Indiana.  These students had a chance for an all-access tour of the Indiana Harbor facility along with some unique dining and sightseeing opportunities.
During the tour, students saw first-hand some of the challenges and opportunities of careers in the factory.  They learned the importance of teamwork and safe work practices.  Since the tour consisted primarily of first and second-year students, these lessons will help them in their future careers, regardless of their degree or the company they work for.
Some of the post-tour surveys revealed what the students learned:
"Everyone we spoke with seemed genuinely invested in the company and also what they are making"
"Employees were very satisfied with their jobs"
"It is very important for a company to be good to the people that work for them"
"…an opportunity to assume responsibility from day one on the job…"
"The company…still allows personal fulfillment"
Before the students took the tour, 50% said they probably would not have considered a career in the Steel Industry.  After the tour, 93% of the students said they would consider working for ArcelorMittal.