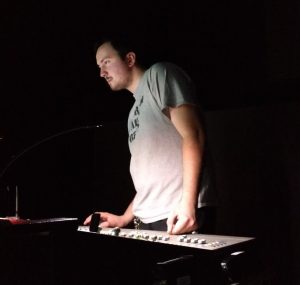 All Michigan Tech students have one thing in common: Tenacity. They know how to work hard and be successful. Among them is Henry Sendek, an Audio Production and Technology student. Adding on to his full class schedule and on-campus events, Henry's major requires him to attend four conferences throughout his time at Michigan Tech: two as an attendee and two as a presenter. These conferences are incredible networking and learning opportunities. They are the job fairs of Visual and Performing Arts departments around the country.
Henry has attended two conferences so far: the Audio Engineering Society's Student Summit as an attendee and the Kennedy Center American College Theater Festival (KCACTF) as a presenter. Henry will also be presenting at the United States Institute for Technical Theater (USITT) later this semester and attending the Audio Engineering Society's 145th Convention next fall. Initially, Henry wasn't very excited to have to attend four conferences, but after experiencing them, Henry wishes he could attend them all many times. He says, "Attending an engineering focused college in Upper Michigan isn't a great place to find sound designers, broadway productions, and large touring musical acts. That's why we take part in these different conferences. It gives us the opportunity to see the work of industry professionals and other students and allows us to showcase our work to them. This is our chance to show off who we are."
Although Henry has had great experiences off-campus, he says that one of the greatest experiences he's received was through Michigan Tech: the Experience Tech Fee. He can hop in his car and head to Mont Ripley for a free day of skiing and then walk into the Rozsa or McArdle theater that night to watch a show. Henry says, "I have been able to attend almost every show in either the Rozsa or McArdle since starting at Michigan Tech. The Experience Tech Fee has allowed me to do that at a fraction of the cost."
Henry is returning to his internship this summer, but can't give details due to a Non-Disclosure agreement. However, he was hired because of a small group of alumni that currently work for the company. They knew how much knowledge MTU graduates have. They took a chance on Henry and were so impressed with his work that they re-hired him for another summer.
Written by Morgan Laajala, Communications Intern, Career Services