P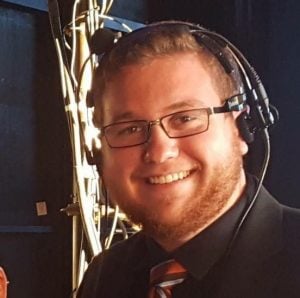 icture a state-of-the art, outdoor theater situated in the picturesque mountains of Sante Fe, New Mexico, which seats more than 2,000 people.
"The sun sets. The orchestra starts the overture. The show begins," explains Zep Elkerton, a visual and performing arts students at Michigan Tech, as he vividly remembers his AV apprenticeship at The Sante Fe Opera in 2016.
Zep Elkerton is a third-year student majoring in theater and entertainment technology with a mechanical and electrical emphasis. Zep says, "Interdisciplinary studies between these departments helps me to learn the skills that other universities don't teach their theater technology students until graduate school."
Zep has always been curious about audio equipment and the way it works. When he was only eight years old, he wondered about the audio console at his church. He was determined to learn what all of the buttons did and to figure out how to operate it. He continued his study of audio and entertainment equipment throughout high school and college.
As a first-year student at Michigan Tech, Zep met with his professors, Kent Cyr, to discuss internship options. Thanks to Cyr's council, Zep was hired at the Santa Fe Opera in New Mexico and describes his summer work experience as "magical." Zep was responsible for moving sets, lighting, sound, and props.
Last summer, Zep worked at the Spoleto Festival USA an apprentice carpenter. He worked on 53 performances over the course of 17 days. After the festival ended, he did freelance work in the Minneapolis area. He worked for the union and built stages for some of the biggest names in the music industry, including Billy Joel, the Backstreet Boys, and Florida Georgia Line.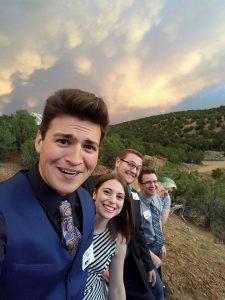 Zep's experiences and opportunities have given him industry connections that will last a lifetime. He explains, " In the entertainment industry, who you know gets you hired more often than what you know."
Written by Morgan Laajala, Communications Intern, Career Services 
——————————————————-
Left image: Zep (center) and the AV apprentice group enjoying the sunset on opening night at The Santa Fe Opera.
Bottom image: The production team for the world class Santa Fe Opera in 2016.