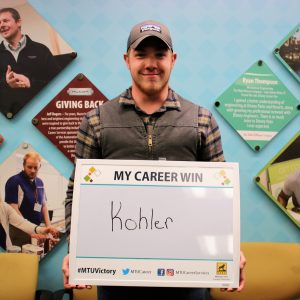 Hunter Linzmeier, Electrical Engineering student at Michigan Technological University, is heading to Kohler on a co-op!
Here's his story:
"Ever since I came to Michigan Tech, I was interested in Kohler. Being a huge company so close to home, I've heard nothing but great opportunities that they have to offer. I went to the Fall Career Fair with my resume and cover letter in hand and I connected well with the Kohler recruiters. I had a phone interview a few days following Career Fair. The interview went well and I was offered a co-op position immediately. I was so shocked that I got it! I also got offers from a few other companies, so that made my decision difficult. Ultimately, Kohler opened my eyes to their endless options and ability to open my mind with new experiences. I look forward to working with Kohler to brighten my horizon towards my future.
If I could give other students advice, I would tell them to research the company they're interested in; Connect with every opportunity because networking is important; Don't worry or stress; Be confident, be cool, calm and collected; Most importantly, be yourself.
I'm really looking forward to being part of such a great company and being able to learn while on the job. I value that aspect of my education. I will never forget the moment when I received my first offer letter. I finally knew that I achieved everything I was looking for."
Congratulations Hunter!