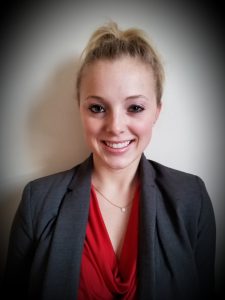 Picture this: you apply for a job and get called in for an interview. A few days later, you receive a call saying, "We're sorry, but you're just not the right fit for our company." What's next? Do you get upset and discouraged, give up, and decide that you don't want to change anything? Or do you thank them for their time, learn from your mistakes, and try again?
Haley Hall is a engineering management and marketing student in the School of Business and Economics. In a family of entrepreneurs, Haley chose two degrees that would allow her to own a business someday. Engineering management offers flexibility and a multitude of career options and marketing allows her to utilize her creativity and gain skills on building and maintaining a brand.
After interviewing for a digital marketing internship in Career Services with Jennifer Wall, Career Services Communications Manager, Haley was not selected for the position. However, that connection led her to an entirely different opportunity.
Haley's passion and enthusiasm left a good impression with Jennifer, and when  Jennifer attended Grand Traverse Day in October, she spoke to Katie Horvath, CEO of Naveego, who was looking for a digital marketing intern to work remotely. Jennifer recommended Haley for the position. Haley received a phone interview with the vice president of sales and marketing and was offered the job shortly after.
"The funny this is," Haley said, "I never even spoke directly to Katie. Jennifer's recommendation must have been very good! Making connections with people at Michigan Tech can be very beneficial in obtaining job opportunities. If I never applied for the job with Career Services, I would not know Jennifer, she would not have recommended me to Katie, and I definitely would not have a job at Naveego right now."
After completing her internship with Naveego, Haley will explore her other major: engineering management. Haley has been offered an internship with Permasteelisa as an assistant project manager and will work there during summer 2019.