Today for the Humans of Career Services, we will be featuring one of our new Assistant Director of Career Services and Career Advisor, Nathan Axdorff.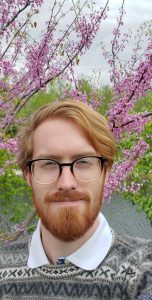 As a Career Advisor, Nathan advises students on their future career plans and presents to organizations and classes about career based topics. In addition to this, he also works with Career Services' student coaches, social media intern, and Escape Room.
Nathan chose to work at Michigan Tech because it reminded him of his service in the Peace Corps. He lived in Ecuador from 2017-2019 serving as an English teacher in Machala, Ecuador. When Nathan first visited Houghton for his interview, he was charmed by the slower pace, the intentionality of the community, and the raw beauty of the Keweenaw. Before Nathan served in the Peace Corps, he was a Career Coach for Grand Rapids Community College. He completed his master of education at Grand Valley State University while working as a graduate assistant in their Career Center. His background and experience in career development and higher education make this position a perfect fit. 
Nathan has multiple favorite memories at Career Services. They usually involve students landing Co-ops, internships, and jobs. Nathan really enjoys working with the team at Career Services. As one of the newest members on the team, he has really appreciated the support and guidance that his co-workers have given him. 
Nathan looks forward to working with students of all majors, backgrounds, identities, and vocations. He hopes to provide better ways for students to connect with Career Services. 
We are very excited to have Nathan on the team and we know he'll do great things.