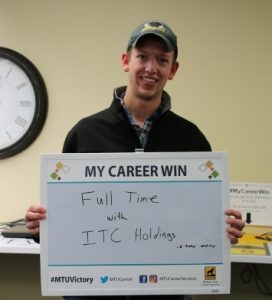 Matthew Rudy is off to ITC Holdings after graduation to pursue a full-time position!
Matthew had an internship in the planning department for ITC this past summer. He was the first intern the economic planning group ever hired, and Matthew's skills and motivation exceeded his supervisor's expectations. At the end of his internship, Matthew was offered a full-time position starting after graduation.Matthew's advice to other students is to network, network, network! He advises students to, "Go out and meet with as many recruiters as you can. Start networking companies early. They will remember you throughout your time at Michigan Tech."
"Go to industry days, go to Career Fair, go to as many events as possible. By going to these events, you will meet  recruiters that will know you by name."
Matthew is an Electrical Engineering student at Michigan Tech.