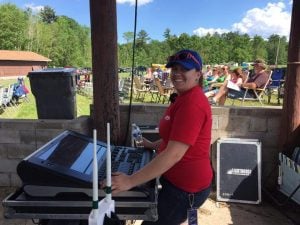 Alex Weber is double majoring in Mechanical Engineering-Eng Mechanics (MEEM)  and Theatre & Entertainment Technology.
When Alex decided to double major, she committed herself to twice the workload of her peers, and she increased the amount of time it would take to graduate. But why?
For Alex, it also increased her career options.
Many MEEM students at Michigan Tech go into the automotive, manufacturing or medical device industry, but Alex is blazing her own trail. She is using internship and co-op experience to explore both fields and to create a unique future, all her own.
Her first two summer internships were at Lighthouse Productions in Green Bay, Wisconsin in 2016 and 2017,  where she put her Theatre & Entertainment Technology major to the test. She spent those summers working on productions and controlling light boards.
After completing her last internship at Lighthouse Productions and returning to campus, Alex attended Career Fair and landed an engineering co-op at Packaging Corporation of America in Valdosta, Georgia.
"Who knows," Alex said, "Maybe next summer I will combine the two and work for an entertainment company like TAIT Towers doing engineering work."
On the surface, mechanical engineering and theater might seem like polar opposites, but there are certainly professions where the pairing makes sense, and Alex is excited about the possibilities.