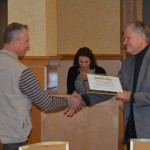 Several staff members were honored with Michigan Tech Staff Council Making a Difference Awards at an awards program in the MUB Wednesday.
Above and Beyond Award: David Caspary (ChemEng)
One of David's nomination letters states that "David goes above and beyond every day to make sure that chemical engineering students get the best education possible, and that the department runs to benefit the students." His primary role is to manage the world-class Process Simulation and Control Center. He runs Summer Youth Programs in the lab, serves on the Chemical Engineering Departmental Executive Committee and works closely with alumni.