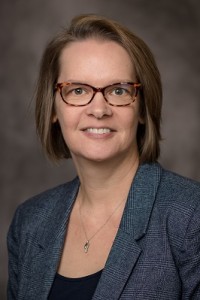 Raleigh NC, June 07, 2019 – The Association of Mathematics Teacher Educators (AMTE) is excited to announce the selection of Executive Director Designate, Dr. Shari Stockero from Michigan Tech University, who will begin her term of service as Executive Director in February 2020.
Shari Stockero is a Professor of Mathematics Education and the Director of Teacher Education at Michigan Technological University. She has served AMTE in a variety of ways, including as Associate Vice-President for the Emerging Issues Committee, as a member of the Conference Program Committee, and on the Editorial Panel of the seventh AMTE monograph. She also led the group that formed the Michigan AMTE affiliate (MI-AMTE) and has served as chair of the PME-NA Steering Committee. Her collaborative NSF-funded research project (Building on MOSTs: Investigating Productive Use of High-Leverage Student Mathematical Thinking) focuses on understanding what it looks like to productively use high-potential instances of student mathematical thinking during a lesson to support student learning. She is also co-PI on an NSF Noyce project (Michigan Middle School Master Teacher Fellows Program) that focuses on developing middle school science teacher leaders in Michigan.
We were pleased to receive excellent applications and to interview two outstanding finalists for the position.  Persons on the search team were impressed both by Shari's history of active participation and experience in AMTE activities, as well as her ability to look broadly at the mathematics teacher education landscape and envision how AMTE can continue to be a strong voice in mathematics teacher education.  All of the applications we received were from persons who have great organizational skills, strong communication skills, and a deep love for the work of AMTE.
The search process for the new executive director was completed over three months, but included many months prior with discussions and encouragement of members to apply for the position.  The formal search was led by Randy Philipp, current Past-President of AMTE, and included the following members of the search team: Mike Steele, current AMTE President; Tim Hendrix, current AMTE Executive Director; Jennifer Bay-Williams, past president of AMTE; Christine Browning, former Vice-President of Publications and former AMTE Board member; Eva Thanheiser, current Board Member-at-Large; Dorothy Y. White, former AMTE Board member;and Trena Wilkerson, former AMTE Board Member and current Associate Vice-President for Conferences.  We want to thank these individuals for their service to AMTE in leading this important search process.
Applications for the position were solicited and submitted by the end of February.  Review of applications and interview of finalist candidates were conducted in March.  In the April Board meeting, the search committee made a recommendation to the AMTE Board of Directors to appoint Shari Stockero. After unanimous approval, the offer of service was extended to Shari, who accepted the appointment with an initial four-year term of service. Discussions then began between Shari, AMTE, and her home institution, Michigan Technological University (MTU), to develop a Memorandum of Agreement, which was approved by the AMTE Board in their May meeting, and has been executed by both AMTE and MTU.  AMTE provides the Executive Director with a nominal stipend and support funds to operate the AMTE Headquarters at their home institution, given in the form of a subcontract to the host institution.
Shari Stockero will become the fourth Executive Director of AMTE, following Judith Jacobs (1998 – 2000), Nadine Bezuk (2001 – 2014) and Tim Hendrix (2014 – 2020). Shari will shadow current Executive Director, Tim Hendrix, and continue to learn more about the roles and responsibilities of Executive Director. At the conclusion of the 24th AMTE Annual Conference in February 2020, Hendrix will step down and Stockero will begin her term of service.  AMTE is fortunate to have dedicated members who are invested in the mission and goals of the organization, and who commit their professional time and service to AMTE.
# # #
If you would like more information about this topic, please contact Dr. Timothy Hendrix, current AMTE Executive Director at 919.760.8240 or by email at hendrixt@meredith.edu.
Copied from AMTE website