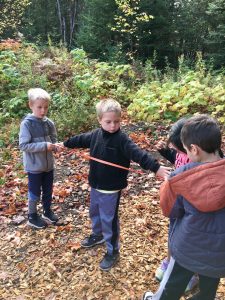 Starting Oct. 1 through Nov. 6, there will be six hands-on explorations taught by Michigan Tech science and engineering students and staff from 4 to 5:30 p.m. at the Great Lakes Research Center, room 104. These classes are for grades one through five.
Gr. 1-2  Forest Fun, Mondays
Students will engineer seed get-aways, investigate animal tracks, design feeders to help birds through the winter, examine leaf characteristics and create leaf art, and discover the many ways that animals survive the winter.
Gr. 3-5   Chemistry for Kids, Tuesdays
Mix, dissolve, measure and conduct experiments while investigating chemistry. Use red cabbage to explore acids and bases. Examine mystery matter—is it a solid or liquid? Become a detective and use chromatography to find out "who stole Herman, the bucktoothed guppy?''
The cost is $90 per student. Register by Thursday (Sept. 27). Registration is available online. Your space is not reserved until payment has been received. Minimum of 10 students needed per class. You can pay by credit card here.
Call 7-3341 or email Joan Chadde with any questions.
A Houghton Elementary School bus will drop off students at the GLRC by 3:45 p.m. Transportation from Houghton Elementary will be provided by Lamers at no additional cost.